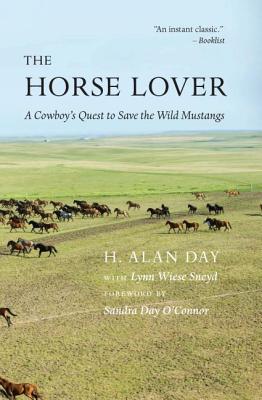 The Horse Lover
A Cowboy's Quest to Save the Wild Mustangs
Hardcover

* Individual store prices may vary.
Description
He already owned and managed two ranches and needed a third about as much as he needed a permanent migraine: that's what Alan Day said every time his friend pestered him about an old ranch in South Dakota. But in short order, he proudly owned 35,000 pristine grassy acres. The opportunity then dropped into his lap to establish a sanctuary for unadoptable wild horses previously warehoused by the Bureau of Land Management. After Day successfully lobbied Congress, those acres became Mustang Meadows Ranch, the first government-sponsored wild horse sanctuary established in the United States.
The Horse Lover is Day's personal history of the sanctuary's vast enterprise, with its surprises and pleasures and its plentiful dangers, frustrations, and heartbreak. Day's deep connection with the animals in his care is clear from the outset, as is his maverick philosophy of horse-whispering, with which he trained fifteen hundred wild horses. The Horse Lover weaves together Day's recollections of his cowboying adventures astride some of his best horses, all of which taught him indispensable lessons about loyalty, perseverance, and hope. This heartfelt memoir reveals the Herculean task of balancing the requirements of the government with the needs of wild horses.
Purchase the audio edition.
Praise For The Horse Lover: A Cowboy's Quest to Save the Wild Mustangs…
"Day's poignant personal journey is one of both heartache and hope, a mirror of not just one man's desire to save a great American icon of freedom, the wild mustang, but a nation's."—Stuart Rosebrook, True West
— Stuart Rosebrook

"An instant classic."—Nancy Bent, Booklist Starred Review
— Nancy Bent

"An easy and enjoyable read."—Bismark Tribune
— Bismark Tribune

"The Horse Lover is a very good illustration of the real western part of our nation. Day, a successful rancher and businessman, is honest and forthright in dealings with neighbors, employees, business associates, and especially the federal government. I recommend this reading."—Dennis DeConcini, former U.S. senator from Arizona
— Dennis DeConcini

"A great American story, and an inspiring tale of vision, courage, and hard-won wisdom. It's told with humor and grace and without pretension. And every reader is sure to find a horse to fall in love with in these pages."—Larry Watson, author of Montana 1948
— Larry Watson

"A definite read for all those who love horses. Day and Sneyd's book is sure to become an instant wild-horse classic in the spirit of J. Frank Dobie."—J. Edward de Steiguer, author of Wild Horses of the West
— J. Edward de Steiguer

"It is impossible to see a herd of wild horses running free without feeling a surge of excitement and enthusiasm for their vigor, power, and beauty. To watch them run with their manes and tails flying in the wind is to experience a sense of the ultimate freedom of motion."—From the foreword by Sandra Day O'Connor, former U.S. Supreme Court justice
— Sandra Day O'Connor
Bison Books, 9780803253353, 264pp.
Publication Date: March 1, 2014
About the Author
Alan Day was the owner of Mustang Meadows Ranch near St. Francis, South Dakota; Rex Ranch near Whitman, Nebraska; and Lazy B Ranch in southern Arizona. With his sister, Sandra Day O'Connor, he coauthored Lazy B: Growing Up on a Cattle Ranch in the American Southwest. Lynn Wiese Sneyd is a published author and owner of LWS Literary Services. Sandra Day O'Connor served on the U. S. Supreme Court from 1981 to 2005.