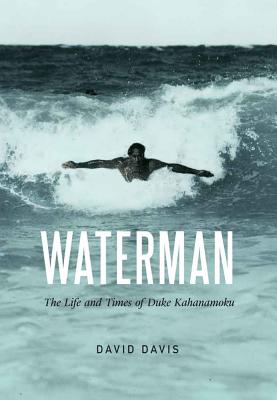 Waterman
The Life and Times of Duke Kahanamoku
Hardcover

* Individual store prices may vary.
Other Editions of This Title:
Paperback (5/1/2018)
Description
Waterman is the first comprehensive biography of Duke Kahanamoku (1890–1968): swimmer, surfer, Olympic gold medalist, Hawaiian icon, waterman.
Long before Michael Phelps and Mark Spitz made their splashes in the pool, Kahanamoku emerged from the backwaters of Waikiki to become America's first superstar Olympic swimmer. The original "human fish" set dozens of world records and topped the world rankings for more than a decade; his rivalry with Johnny Weissmuller transformed competitive swimming from an insignificant sideshow into a headliner event.
Kahanamoku used his Olympic renown to introduce the sport of "surf-riding," an activity unknown beyond the Hawaiian Islands, to the world. Standing proudly on his traditional wooden longboard, he spread surfing from Australia to the Hollywood crowd in California to New Jersey. No American athlete has influenced two sports as profoundly as Kahanamoku did, and yet he remains an enigmatic and underappreciated figure: a dark-skinned Pacific Islander who encountered and overcame racism and ignorance long before the likes of Joe Louis, Jesse Owens, and Jackie Robinson.
Kahanamoku's connection to his homeland was equally important. He was born when Hawaii was an independent kingdom; he served as the sheriff of Honolulu during Pearl Harbor and World War II and as a globetrotting "Ambassador of Aloha" afterward; he died not long after Hawaii attained statehood. As one sportswriter put it, Duke was "Babe Ruth and Jack Dempsey combined down here."
In Waterman, award-winning journalist David Davis examines the remarkable life of Duke Kahanamoku, in and out of the water.
Purchase the audio edition.
Praise For Waterman: The Life and Times of Duke Kahanamoku…
"A belated and bountiful tribute to this great Hawaiian's memory."—Simon Winchester, Wall Street Journal

"A must-read."—Don Wallace, Honolulu Magazine

"A must-read."—Surfer Today

"This is the perfect book. . . . I'm ecstatic for the good people at Nebraska. I hope they sell a bazillion copies of Waterman."—Matt Sutherland, Foreword Reviews

"David Davis' enjoyable new biography, Waterman: The Life and Times of Duke Kahanamoku, presents a man of many accomplishments and few boasts."—Ryan McDonald, Easy Reader News

"Davis is to be commended for this winning portrait of a man who 'yearned for water like it was his lover' and inspired so many, but most of all Hawaiians, to embrace competition and be proud of where they came from."—Mindy Pennybacker, Honolulu Star-Advertiser

"Waterman provides an engaging tale of a Hawaiian icon and an Olympic super star."—Lindsay Parks Pieper, Sport in American History

"A much-needed study of a legendary Hawaiian Olympic athlete and surf pioneer."—Rob Hudson, Journal of Sport History

"This is a book that people interested in water sports or Hawaiian culture will want to add to their libraries."—Lance Smith, Guy Who Reviews Sports Books
University of Nebraska Press, 9780803254770, 354pp.
Publication Date: October 1, 2015
About the Author
David Davis is the author of Showdown at Shepherd's Bush: The 1908 Olympic Marathon and the Three Runners Who Launched a Sporting Craze; Play by Play: Los Angeles Sports Photography, 1889–1989; and Marathon Crasher: The Life and Times of Merry Lepper, the First American Woman to Run a Marathon. His work has appeared in Sports Illustrated, Smithsonian, the New York Times, the Los Angeles Times, and in three anthologies, including The Best American Sports Writing. He lives in Los Angeles.