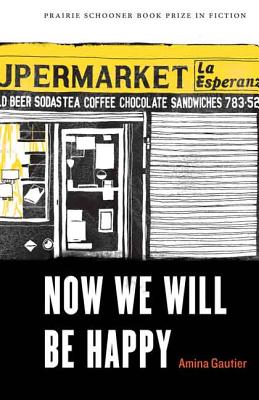 Now We Will Be Happy (The Raz/Shumaker Prairie Schooner Book Prize in Fiction)
Paperback

* Individual store prices may vary.
Description
Now We Will Be Happy is a prize-winning collection of stories about Afro-Puerto Ricans, U.S.-mainland-born Puerto Ricans, and displaced native Puerto Ricans who are living between spaces while attempting to navigate the unique culture that defines their identity. Amina Gautier's characters deal with the difficulties of bicultural identities in a world that wants them to choose only one.
The characters in Now We Will Be Happy are as unpredictable as they are human. A teenage boy leaves home in search of the mother he hasn't seen since childhood; a granddaughter is sent across the ocean to broker peace between her relatives; a widow seeks to die by hurricane; a married woman takes a bathtub voyage with her lover; a proprietress who is the glue that binds her neighborhood cannot hold on to her own son; a displaced wife develops a strange addiction to candles. 
Crossing boundaries of comfort, culture, language, race, and tradition in unexpected ways, these characters struggle valiantly and doggedly to reconcile their fantasies of happiness with the realities of their existence.
Praise For Now We Will Be Happy (The Raz/Shumaker Prairie Schooner Book Prize in Fiction)…
"The 11 linked stories in Gautier's debut collection . . . vividly evoke Puerto Rico's intoxicating, comforting atmosphere—that unbreakable tether binding struggling people in crowded Northeastern U.S. cities to their tropical homeland. . . . Gautier captures the unique experience, and predicament, of Puerto Ricans living in the mainland U.S."—Publishers Weekly

"Gautier's linked stories deftly capture her characters' internal struggles for identity and home."—Leah Strauss, Booklist

"With a style that feels like a mixture of Junot Diaz and Edwidge Danicat, Gautier is a writer more people should be talking about."—Coleen Muir, Rumpus

"Told with respect, grit, and truth, Now We Will Be Happy is a powerful collection about family, identity, and the sacrifices we make in our pursuits of happiness."—Laura Farmer, Cedar Rapids Gazette

"Timely as well as beautifully rendered, Gautier's collection breathes life into America's racial and immigrant conflicts, going well below the skin-deep surface of her characters or expose the passions and hopes that unite diverse people."—Sian Griffiths, Georgia Review

"Gautier's persistent thematic explorations into the meaning of family and identity make Now We Will Be Happy cohere and resonate in ways that you'll remember long after the final page."—Leland Cheuk, Kenyon Review
University of Nebraska Press, 9780803255395, 140pp.
Publication Date: September 1, 2014
About the Author
Amina Gautier teaches in the department of English at the University of Miami. She is a winner of the Flannery O'Connor Award for Short Fiction. Her work has appeared in numerous literary journals, including Antioch Review, Glimmer Train, Iowa Review, Kenyon Review, and Southern Review.