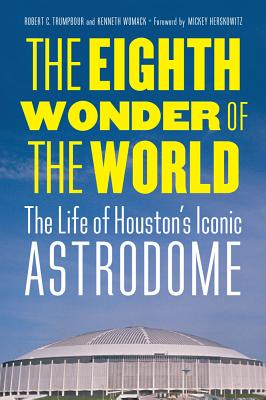 The Eighth Wonder of the World (Hardcover)
The Life of Houston's Iconic Astrodome
University of Nebraska Press, 9780803255456, 272pp.
Publication Date: September 1, 2016
Other Editions of This Title:
Paperback (11/1/2018)
* Individual store prices may vary.
Description
When it opened in 1965, the Houston Astrodome, nicknamed the Eighth Wonder of the World, captured the attention of an entire nation, bringing pride to the city and enhancing its reputation nationwide. It was a Texas-sized vision of the future, an unthinkable feat of engineering with premium luxury suites, theater-style seating, and the first animated scoreboard. Yet there were memorable problems such as outfielders' inability to see fly balls and failed attempts to grow natural grass—which ultimately led to the development of Astroturf. The Astrodome nonetheless changed the way people viewed sports, putting casual fans at the forefront of a user-experience approach that soon became the standard in all American sports.
 
The Eighth Wonder of the World tears back the facade and details the Astrodome's role in transforming Houston as a city while also chronicling the building's pivotal fifty years in existence and the ongoing debate about its preservation.

 
About the Author
Robert C. Trumpbour, an associate professor of communications at Pennsylvania State University, Altoona, is the author of The New Cathedrals: Politics and Media in the History of Stadium Construction. Kenneth Womack, dean of the Wayne D. McMurray School of Humanities and Social Sciences and a professor of English at Monmouth University, is the author of several books, including Long and Winding Roads: The Evolving Artistry of the Beatles. Mickey Herskowitz was a sportswriter and columnist for the Houston Post and the Houston Chronicle. He has written over thirty books and was a writer for George W. Bush and numerous other public figures.  
 
Praise For The Eighth Wonder of the World: The Life of Houston's Iconic Astrodome…
"The first domed stadium, a multipurpose venue for baseball, football, livestock shows, rodeos, trade shows, and more, gives us a window on the evolution of sports as entertainment and big business in the 20th Century."—G. Louis Heath, ARETE
— G. Louis Heath
"The Eighth Wonder of the World is a solid work of sports, business, and political history."—Si Dunn, Lone Star Literary Life
— Si Dunn
"A book worth reading. . . . It not only tells the story of the construction of the Harris County Domed Stadium . . . it does so with enough suspense to keep readers engaged from beginning to end."—Frank G. Houdek, NINE
— Frank G. Houdek
"The Astrodome's significance in the history of stadium design is unquestionable; the authors make this case convincingly. They have delivered a compact, clear, and detailed account of the stadium, from conception to legacy."—Benjamin D. Lisle, Journal of Sport History
— Benjamin D. Lisle
"The Astrodome was an architectural marvel when it opened more than a half century ago. This book documents the many wondrous people and events that starred inside this magical building. I know. I was there to see much of it happen!"—Jim Nantz, lead play-by-play announcer, CBS Sports 
 
— Jim Nantz
"Trumpbour and Womack have produced a magnificent examination of one of our greatest undertakings, the Houston Astrodome. This book is a great tribute to the human energy and triumph that reached across the United States and the world."—Mike Acosta, Houston Astros in-house historian 
— Mike Acosta
"If you want to learn why the Astrodome is an important part of Houston's history, read this book. No self-respecting 'Domer' should live without it."—Craig Hlavaty, reporter for the Houston Chronicle
— Craig Hlavaty