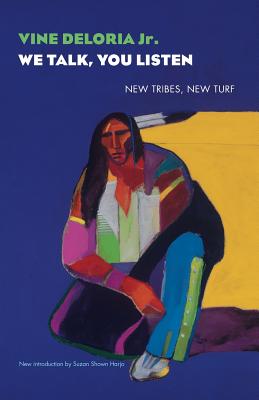 We Talk, You Listen (Paperback)
New Tribes, New Turf
Bison Books, 9780803259850, 221pp.
Publication Date: May 1, 2007
* Individual store prices may vary.
Description
We Talk, You Listen is strong, boldly unconventional medicine from Vine Deloria Jr. (1933–2005), one of the most important voices of twentieth-century Native American affairs. Here the witty and insightful Indian spokesman turns his penetrating vision toward the disintegrating core of American society.
Written at a time when the traditions of the formerly omnipotent Anglo-Saxon male were crumbling under the pressures of a changing world, Deloria's book interprets racial conflict, inflation, the ecological crisis, and power groups as symptoms rather than causes of the American malaise: "The glittering generalities and mythologies of American society no longer satisfy the need and desire to belong," a theory as applicable today as it was in 1970. 
American Indian tribalism, according to Deloria, was positioned to act as America's salvation. Deloria proposes a uniquely Indian solution to the legacy of genocide, imperialism, capitalism, feudalism, and self-defeating liberalism: group identity and real community development, a kind of neo-tribalism. He also offers a fascinating cultural critique of the nascent "tribes" of the 1970s, indicting Chicanos, blacks, hippies, feminists, and others as misguided because they lacked comprehensive strategies and were led by stereotypes rather than an understanding of their uniqueness.
About the Author
Vine Deloria Jr. (Standing Rock Sioux, 1933–2005) was the author of more than twenty books, including Custer Died for Your Sins, Behind the Trail of Broken Treaties, and God Is Red. Suzan Shown Harjo (Cheyenne & Muscogee) is a poet, lecturer, curator, columnist for Indian Country Today, policy advocate, and president of the Morning Star Institute, a national Indian rights organization.
Praise For We Talk, You Listen: New Tribes, New Turf…
"The reader is always left with a clear picture of where Deloria stands—up front looking White America right in the eye. He does not push and poke the reader; rather, he leads him down a logical analytical road to a major conclusion that he is at liberty to accept or reject. If the book does offer a major theme for contemplation, it is Deloria's belief—and that of most Indians—that the land is the key to life and survival."—Arthur Derosier Jr., Annals of the American Academy of Political and Social Science
— Arthur Derosier Jr.