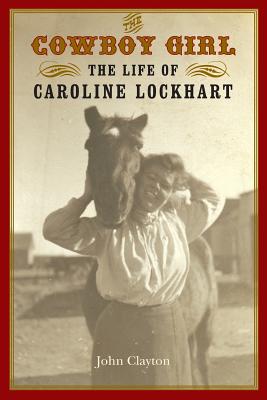 The Cowboy Girl
The Life of Caroline Lockhart (Women in the West)
Paperback

* Individual store prices may vary.
Description
In 1901, Philadelphia's celebrity female journalist stepped off a train in Blackfoot, Montana, and into a world of living legends. The miners and frontiersmen, Indians and trappers that Caroline Lockhart met there inspired this beautiful, single, strong-willed woman to live a life she had only dreamed about in what remained of the Wild West. This is the true story of a woman whose work and life teetered between realism and romanticism and who wrote novels "like a man" yet ran her businesses and love affairs like a liberated feminist. Prep-school educated (she attended the Moravian Seminary for girls) and well-traveled (her assignments took her throughout Europe), she chose to live out her passions in a time when to bare one's ankle could ruin a woman for life. As a newspaper publisher in Cody, Wyoming, she founded the town's still-thriving Stampede Rodeo, received critical praise from the demanding H. L. Mencken, and saw three of her seven novels turned into films. Yet she also infuriated neighbors and admirers with her cantankerous crusades (she referred to novelist Zane Grey, for instance, as "that tooth-pulling ass!") and indomitable will. In this all-encompassing portrait the Cowboy Girl, Caroline Lockhart, emerges as a woman who remade the fantasy of the West in life and in words, and who keeps us spellbound to this day.
Praise For The Cowboy Girl: The Life of Caroline Lockhart (Women in the West)…
"In The Cowboy Girl, author and essayist John Clayton presents a warm portrait of a woman whose strong spirit and independent vision perfectly embodied the American West. As part of the University of Nebraska's Women in the West series, Clayton's biography provides a voice to the little-known legend."—Bloomsbury Review
— Bloomsbury Review

"This larger-than-life Western woman deserved a good biography, and John Clayton has written one."—Bill Croke, The Washington Times
— Washington Times

"This lively biography of Caroline Lockhart reveals an intrepid, trailblazing woman who, as one of the first female journalists, traveled solo everywhere pursuing stories. . . . [A]n absorbing story of a talented but difficult woman always torn by her conflicting ambitions of fame, power, domestic bliss and a country life."—Joan Hinkemeyer, Rocky Mountain News
— Rocky Mountain News

"What sets The Cowboy Girl apart from standard works of western Americana, aside from the inherently sensational life of its subject, is the way it weaves together details of both Lockhart's public and private life with insights about the historical, social, and cultural developments of which Lockhart was a part. The result is a fascinating read and an enlightening look at the ironies of early twentieth-century frontier mythmaking in its historical context. . . . Clayton skillfully interweaves these personal details together with a lively account of relevant local and national history. The resulting biography is a rare revelation of frontier mythology as lived experience, in all of its contradiction and complexity."—Western American Literature 
— Western American Literature

"[Clayton] provides a compelling account of an American journalist who sought to tell the stories of the West at a time when it still promised a romantic, adventurous life to those who sought rural, unvarnished America."—Carolyn Bronstein, Journalism History  
— Carolyn Bronstein
Bison Books, 9780803259904, 338pp.
Publication Date: May 1, 2007
About the Author
John Clayton, a freelance journalist and essayist based in Montana, is the author of Small Town Bound. For more information about Caroline Lockhart visit http://www.thecowboygirl.net/.