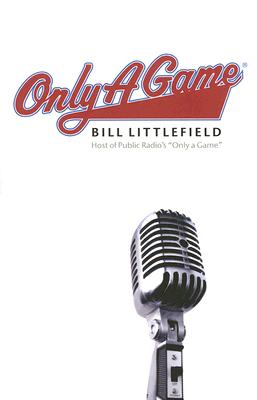 Only a Game
Paperback

* Individual store prices may vary.
Description
It's only a game, Bill Littlefield's National Public Radio program tells us, trying to keep sports in perspective. And for all the deadly serious perspectives of sports commentators and fans, Littlefield's is perhaps the most realistic. It is certainly the most entertaining. Sometimes funny, sometimes poignant, Littlefield's take on the games people play is as refreshing as it is enlightening. From baseball Hall of Famer Kirby Puckett's untimely death, to pickup soccer games among misfit high-schoolers, to the most obscure nicknames and unusual mascots in college sports, the book collects memorable commentaries from Littlefield's popular NPR sports show as well as never-before-published essays. No matter the topic, Littlefield illuminates the dark corners and unlikely angles of sports with wry good humor and a lightly worn expertise that lets nothing pass.
Praise For Only a Game…
"A rare reading experience . . . a book that travels on many levels of fine writing . . . the history of a time—not just in sport—and an exploration of human nature."—W. C. Heinz
— W. C. Heinz
"For me, the problem with sports is sports commentary, which so often combines jingoism, sanctimoniousness, and stupidity. Bill Littlefield is a shining exception, a person I can read and listen to with pleasure. He talks about games with a sense of proportion and an adult's sense of humor."—Tracy Kidder, Pulitzer Prize–winning author of The Soul of a New Machine and My Detachment
— Tracy Kidder
"So a guy comes into the shop and says the driver's side seat in his Volvo is wobbly. We stick one of your books under the seat, bill him $400.00, and everybody's happy. You got any more books?"—Tom and Ray Magliozzi (aka Click and Clack), National Public Radio's program Car Talk
— Tom & Ray (Click and Clack)
"'Voice is a rare quality in writing. It's more than sound or style—it's the presence of the writer on the page, the unmistakable signature of selfhood. His writer's voice comes through on every page and makes reading this collection a delightful experience."—Jack Beatty, senior editor of the Atlantic Monthly and News Analyst for National Public Radio's program On Point
— Jack Beatty
"Bill Littlefield is a little oasis for the authors he interviews, a place to stop and be refreshed in the greater understanding of another. His literary intelligence and passion shine through all he writes and says."—Michael Lewis, author of The Blind Side and Moneyball
— Michael Lewis
"Using rhyme and reason in equal measure to extol the joys of river swimming, opening day at Fenway or skiing with his daughters, Bill Littlefield's delightful collection of columns trains a wry and kindly eye on a world filled with rogues, athletes, and everyday heroes, sometimes all three at once."—Madeleine Blais, author of In These Girls, Hope Is a Muscle
— Madeleine Blais
"How wonderful to have that voice we love—all at once wry, brash and darn near profound—captured on the page and always at hand. Littlefield has an uncanny talent for seeing the mischief behind the obvious and for being right."—Elinor Lipman, author of My Latest Grievance and The Inn at Lake Devine
— Elinor Lipman
Bison Books, 9780803260016, 156pp.
Publication Date: October 1, 2007
About the Author
Bill Littlefield is the former host of the syndicated National Public Radio sports show Only a Game from 1993 to 2018. For thirty-eight years he taught in the Department of English at Curry College in Milton, Massachusetts, where he also served as writer-in-residence. Littlefield is the author or editor of several books, including The Top of His Game: The Best Sportswriting of W.C. Heinz, Take Me Out, and Baseball Days and Champions: Stories of Ten Remarkable Athletes.