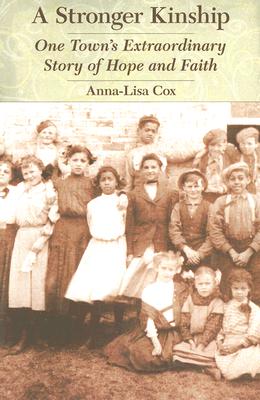 A Stronger Kinship (Paperback)
One Town's Extraordinary Story of Hope and Faith
Bison Books, 9780803260184, 296pp.
Publication Date: September 6, 2007
Other Editions of This Title:
Hardcover (2/6/2006)
* Individual store prices may vary.
Description
In the heartland of the United States 150 years ago, where racism and hatred were common, a community decided there could be a different America. Here schools and churches were completely integrated, blacks and whites intermarried, and power and wealth were shared by both races. But for this to happen, the town's citizens had to keep secrets, break the laws of the world outside, and sweep aside fear and embrace hope.
In a historical-detective feat, Anna-Lisa Cox uncovers the heartening story of this community that took the road untaken. Beginning in the 1860s, the people of Covert, Michigan, attempted to do what then seemed impossible: love one's neighbor—regardless of skin color—as oneself. Drawing on diaries, oral histories, and contemporary records, Cox gives us intimate glimpses of Covert's people, from William Conner, the Civil War veteran who went on to become Michigan's first black justice of the peace, to Elizabeth Gillard, who, shipwrecked and washed onto Covert's shores, ultimately came to love the unusual community she would call home. In bringing these and other stories of this small town to light, Cox presents a vision of what our nation might have been, and could be.
About the Author
Anna-Lisa Cox is the recipient of numerous awards for her research, including a National Endowment for the Humanities Younger Scholars Award, a Gilder Lehrman Fellowship, and a Pew Younger Scholars Fellowship.
Praise For A Stronger Kinship: One Town's Extraordinary Story of Hope and Faith…
"Readers of A Stronger Kinship will enjoy its prose, admire its characters, and very likely agree with Cox that the history of this small Michigan town teaches us about hope and the possibility for racial reconciliation in our own time."—Frank Towers, Chicago Tribune
— Frank Towers
"An inspirational story of tolerance and decency."—Diane Robert, Atlanta Journal-Constitution
— Diane Roberts
"A gladdening, unsentimental chronicle of a Midwestern town that practiced racial equality against all late 19th-century odds."—Kirkus Reviews
— Kirkus
"Anna-Lisa Cox brings us the remarkable story of this extraordinary place, Covert, Michigan. Intensively researched and well crafted, this inspirational story gives the reader a glimpse of the way the people of one town chose to live their lives, regardless of the social norms of the time."—Historical Society of Michigan Chronicle
— Historical Society of Michigan
"Cox emphasizes that a widespread problem is not always an inevitable problem. . . . The author's analysis of statistics and written records and the way she uses them to illustrate race relations in Covert, Michigan, contribute greatly to this book's high quality."—Michigan Historical Review
— Michigan Historical Review