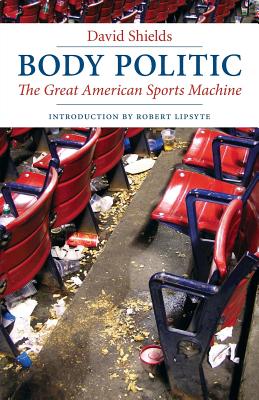 Body Politic (Paperback)
The Great American Sports Machine
Bison Books, 9780803260320, 208pp.
Publication Date: November 1, 2007
* Individual store prices may vary.
Description
In Body Politic, David Shields looks at contemporary America and its mythology through the lens of professional and college sports. The result is an unusually insightful and provocative book about an empire in denial. Shields relentlessly examines the way we tell our sports stories (both fictional and nonfictional), considers the kinds of athletes we choose as heroes, and delineates the lessons and values we glean from sports. He explores the intricate and telling relationships between players and coaches, black and white players, immigrant and native players, male and female players, players and broadcasters, players and fans, and players and advertisers. In the process, he shows us the stories we Americans tell ourselves about the kind of people we believe ourselves to be.
About the Author
David Shields is a professor of English at the University of Washington and the author of seven previous books, including Heroes: A Novel and Black Planet: Facing Race during an NBA Season, both available in Bison Books editions. Robert Lipsyte, a longtime sports and city columnist for the New York Times, is the author of sixteen books, including most recently the novel Raiders Night.
Praise For Body Politic: The Great American Sports Machine…
"Shields has carved out a singular place for himself as the poet of sports writing."—Regina Hackett, Seattle Post-Intelligencer
— Regina Hackett
"[Shields is] one of the most necessary, if discomfiting, commentators on American sports today. In this collection of slyly observant, personally inflected essays, he patiently lays out the various elements of athletic myth that come wrapped seamlessly around other signature American obsessions—money, celebrity, self-reliance and, most of all, race."—Chris Lehman, Washington Post
— Chris Lehman
"[Shields] elucidates superbly the paradox of sports coverage: although feats of the body seem to defy language, sports is nonetheless 'imprisoned by its prevailing rhetoric.' The ambition in these piercing essays is to discern the reality behind the rhetoric."—Daniel G. Habib, Sports Illustrated
— Daniel G. Habib
"Sweeping insights . . . an intellectual tour de force."—Steve Weinberg, St. Louis Post-Dispatch
— Steve Weinberg
"Like Charles Barkley, Shields is outspoken, controversial, and never dull."—Minneapolis Star Tribune
"A thinking person's collection of sports essays. . . . The author is a mild, reflective man who suspects there is a strong element of resurrection and salvation in sports . . . and who can cobble together a fluid chapter out of sporting clichés: ten pages that sound either like wacky Shakespeare or a whole lot of ironic license plates tied end-to-end. Pensive and shrewd."—Kirkus