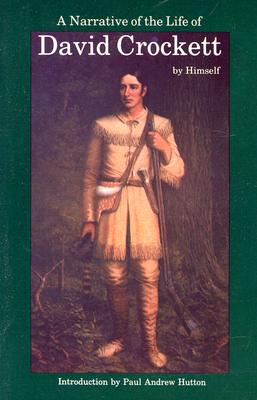 A Narrative of the Life of David Crockett of the State of Tennessee (Paperback)
Bison Books, 9780803263253, 211pp.
Publication Date: September 1, 1987
Other Editions of This Title:
Paperback (10/8/2012)
Paperback (5/3/2011)
Paperback (2/23/2012)
Hardcover (10/10/2018)
Paperback (10/10/2018)
Hardcover (10/23/2018)
Hardcover (8/23/2015)
Paperback (2/27/2015)
Hardcover (1/1/1972)
Paperback (5/17/2018)
Paperback (2/8/2015)
Paperback (4/19/2018)
Paperback (7/31/1987)
Paperback (2/8/2015)
Paperback (6/1/1972)
Paperback (5/27/2018)
* Individual store prices may vary.
Description
Even as a pup, Davy Crockett "always delighted to be in the very thickest of danger." In his own inimitable style, he describes his earliest days in Tennessee, his two marriages, his career as an Indian fighter, his bear hunts, and his electioneering. His reputation as a b'ar hunter (he killed 105 in one season) sent him to Congress, and he was voted in and out as the price of cotton (and his relations with the Jacksonians) rose and fell. In 1834, when this autobiography appeared, Davy Crockett was already a folk hero with an eye on the White House. But a year later he would lose his seat in Congress and turn toward Texas and, ultimately, the Alamo.
About the Author
Paul Andrew Hutton introduces this Bison Book edition of Davy Crockett's own story. Hutton, a professor of history at the University of New Mexico, is the author of the prize-winning Phil Sheridan and His Army, also a Bison Book.