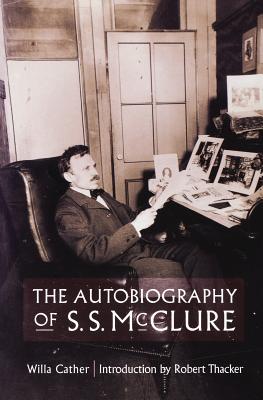 The Autobiography of S. S. McClure (Paperback)
University of Nebraska Press, 9780803263734, 298pp.
Publication Date: March 1, 1997
* Individual store prices may vary.
Description
S. S. McClure was one of America's greatest editors and publishers in the lively era of muckraking reform. He is remembered for McClure's Magazine, which early in the twentieth century published the works of famous authors and social reformers. He was also the mentor of young Willa Cather. After leaving her position at McClure's in 1912, Cather ghosted this graceful portrait of her former boss.
Cather's developing style is clear throughout The Autobiography of S. S. McClure. She goes far inside her subject to find his voice and catch the rhythms of his exciting life: his immigration from Ireland to America, his Horatio Alger–like rise from poverty and struggle to success. Cather shows the risks he took in forming the first newspaper syndicate in the United States, which gave him access to such literary masters as Conan Doyle, Rudyard Kipling, and Robert Louis Stevenson. His extensive contacts were advantageous later in establishing McClure's, the medium for muckrakers like Ida Tarbell and Lincoln Steffens. These famous figures, and many others, enter into The Autobiography of S. S. McClure, which was originally published in 1914, just as Cather was launching her own illustrious career as a novelist
About the Author
Robert Thacker is a professor and director of Canadian Studies at St. Lawrence University. His publications include The Great Prairie Fact and Literary Imagination.
Praise For The Autobiography of S. S. McClure…
"If you do not read it you are going to miss a big experience and an enjoyable one. The book is as tonic as a mountain climb, as wholesome, as optimistic, and as genuine."—New York Times
— New York Times