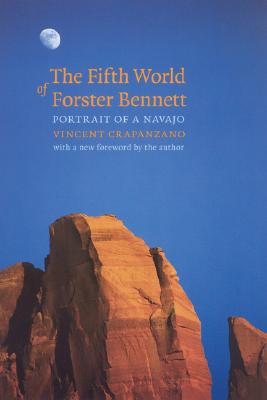 The Fifth World of Forster Bennett (Paperback)
Portrait of a Navajo
Bison Books, 9780803264311, 245pp.
Publication Date: May 1, 2003
* Individual store prices may vary.
Description
It is told that the ancestors of the Navajos journeyed through four worlds to reach the fifth, or present, one. The pressing complexities and underlying wonder of their fifth world of modern reservation life are portrayed in this classic ethnographic account by Vincent Crapanzano.
As a young, inexperienced anthropologist, Crapanzano spent a summer with a Navajo man he calls Forster Bennett. In his fifties, Bennett was raised during the early reservation years, fought in the South Pacific in the Second World War, and, like many, carried a deep but not always openly expressed resentment toward whites. Crapanzano's honest and gritty account of his time with Bennett and Bennett's community reveals a stark portrait of the "flat, slow quality of reservation life," where boredom and poverty coexist with age-old sacred rituals and the varying ways that Navajos react and adjust to changes in their culture.
About the Author
Vincent Crapanzano is Distinguished Professor of Anthropology and Comparative Literature at City University of New York Graduate Center. He is the author of several books, including Serving the Word: Literalism in America from the Pulpit to the Bench and Tuhami: Portrait of a Moroccan.
Praise For The Fifth World of Forster Bennett: Portrait of a Navajo…
"A realistic and probing portrait. It is disturbing to the point of shocking to read Crapanzano's authentic, vividly written account of the incredible boredom and futility of Bennett's reservation life and those of his people."—Publishers Weekly
— Publishers Weekly
"It is a plain, unadorned document, vivid, concrete, accessible. . . . It will stay in the mind longer than more ponderous tomes."—New York Times
— New York Times