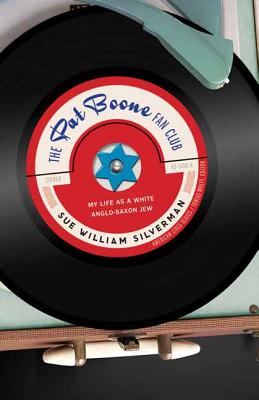 The Pat Boone Fan Club
My Life as a White Anglo-Saxon Jew (American Lives )
Paperback

* Individual store prices may vary.
Description
Gentile reader, and you, Jews, come too. Follow Sue William Silverman, a one-woman cultural mash-up, on her exploration of identity among the mishmash of American idols and ideals that confuse most of us—or should. Pat Boone is our first stop. Now a Tea Party darling, Boone once shone as a squeaky-clean pop music icon of normality, an antidote for Silverman's own confusing and dangerous home, where being a Jew in a Christian school wasn't easy, and being the daughter of the Anti-Boone was unspeakable. And yet somehow Silverman found her way, a "gefilte fish swimming upstream," and found her voice, which in this searching, bracing, hilarious, and moving book tries to make sense of that most troubling American condition: belonging, but to what?

Picking apricots on a kibbutz, tramping cross-country in a loathed Volkswagen camper, appearing in a made-for-television version of her own life: Silverman is a bobby-soxer, a baby boomer, a hippy, a lefty, and a rebel with something to say to those of us—most of us—still wondering what to make of ourselves.
Praise For The Pat Boone Fan Club: My Life as a White Anglo-Saxon Jew (American Lives )…
"A masterly stylist continues her uncompromising examination of the inner life."—Kirkus Reviews

"Silverman's language is, by turns, blunt, wrenching, sophisticated, lyrical, tender, hilarious. She writes with wicked dark humor, splendid intelligence, wry wit, and honest confrontation. There's no other book quite like it."—Lee Martin, author of From Our House

"Although many of the topics and themes in these essays are somber and sincere, Silverman's ever-present humor sets a self-deprecating tone. . . . Readers will relate to these stories, for while they're directly about this writer's spiritual journey, they're also about the universal feeling that one doesn't quite belong, and the fact that Silverman has survived, recovered, and discovered her true self gives hope to the rest of us." —newpages.com

"Silverman's writing is very alive. As a reader you feel immersed in her world, not just seeing it but feeling, tasting and smelling it."—The New Book Review

"Filled with warmhearted humor and profound compassion, this tour de force exploration of the search for identity is a joy to behold."—Kaylie Jones, author of Lies My Mother Never Told Me

"Silverman is the Tennessee Williams of memoir."—Robert Vivian, author of The Least Cricket of Evening
University of Nebraska Press, 9780803264854, 248pp.
Publication Date: March 1, 2014
About the Author
Sue William Silverman's memoir, Love Sick: One Woman's Journey through Sexual Addiction, is also a Lifetime television movie. Her memoir, Because I Remember Terror, Father, I Remember You, won the Association of Writers and Writing Programs Award for Creative Nonfiction. She is also the author of Fearless Confessions: A Writer's Guide to Memoir, teaches at Vermont College of Fine Arts, and is a professional speaker (suewilliamsilverman.com).