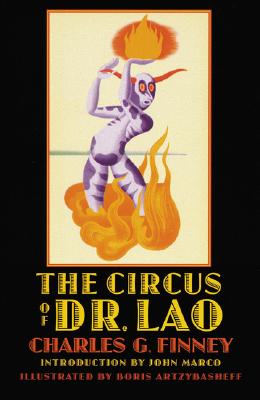 The Circus of Dr. Lao (Paperback)
Bison Books, 9780803269071, 169pp.
Publication Date: April 1, 2002
* Individual store prices may vary.
Description
Abalone, Arizona, is a sleepy southwestern town whose chief concerns are boredom and surviving the Great Depression. That is, until the circus of Dr. Lao arrives and immenselyand irrevocably changes the lives of everyone drawn to its tents.Expecting a sideshow spectacle, the citizens of Abalone instead confront and learn profound lessons from the mythical made real--a chimera, a Medusa, a talking sphinx, a sea serpent, witches, the Hound of the Hedges, a werewolf, a mermaid, an ancient god, and the elusive, ever-changing Dr. Lao. The circus unfolds, spinning magical, dark strands that ensnare the town's populace: the sea serpent's tale shatters love's illusions; the fortune-teller's shocking pronouncements toll the tedium and secret dread of every person's life; sensual undercurrents pour forth for men and women alike; and the dead walk again.Dazzling and macabre, literary and philosophical, "The Circus of Dr. Lao" has been acclaimed as a masterpiece of speculative fiction and influenced such writers as Ray Bradbury. This Bison Frontiers of Imagination edition features a new introduction by noted fantasy writer John Marco and striking illustrations by Boris Artzybasheff from the first edition.
About the Author
Charles G. Finney (1905 84) was a newspaperman and a writer based in Arizona. John Marcois the author of the Tyrants and Kings series, whose books include "The Jackal of Nar," "The Grand Design," and "The Saints of the Sword.""
Praise For The Circus of Dr. Lao…
"The Circus of Dr. Lao is a fascinating work: a labyrinth of meanings and images that sucks in the imagination, teases it and impishly plays with it. It gives nothing away, but offers much sustenance to those willing to take the risk of stepping into the tents housing its bizarre attractions."—Locus Online
or
Not Currently Available for Direct Purchase