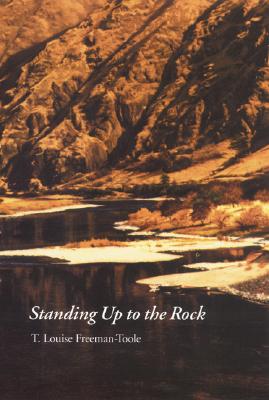 Standing Up to the Rock (Paperback)
Bison Books, 9780803269101, 213pp.
Publication Date: April 1, 2003
* Individual store prices may vary.
Description
There is a ranch that runs for several miles along the last free-flowing stretch of the Snake River. A beautiful but harsh environment, hellishly hot in the summer and cut off from the outside world for much of the winter, the area is also in the middle of two equally harsh controversies: one over the breaching of the dams on the lower Snake and the other concerning new land management plans in Hells Canyon. T. Louise Freeman-Toole, a sixth-generation Californian, moves to a small Idaho town, little suspecting how profoundly she will be affected by her new life and surroundings. Her frequent visits to the last homestead ranch on the middle Snake River and her friendship with the eighty-year-old ranch owner and his daughter lead her to discover the spirit of the West and her own place there.With deft and evocative prose, Freeman-Toole takes us along as she and her son round up cattle, fix fences, hike, kayak, meet bears, elk, and sturgeon, and encounter rural traditions and values that force her to reexamine her own views on environmentalism, the treatment of animals, property rights, child rearing, and death. Whether investigating her family's roots in Los Angeles, exploring the threats that tourism, recreation, population growth, and sprawl pose for Hells Canyon, or chronicling her ten-year romance with the rugged and spectacular landscape, Freeman-Toole is an able guide to the fraught territory where old ways and new realities, fierce loyalties and political passions, and memory and longing uneasily meet.
About the Author
T. Louise Freeman-Toole is a freelance writer whose work has appeared in publications including the "Christian Science Monitor," "Alaska Magazine," "Home Education," and "Spokesman-Review," and in the books "Written on Water: Essays on Idaho Rivers" and "For She Is the Tree of Life: Grandmothers through the Eyes of Women Writers."
or
Not Currently Available for Direct Purchase