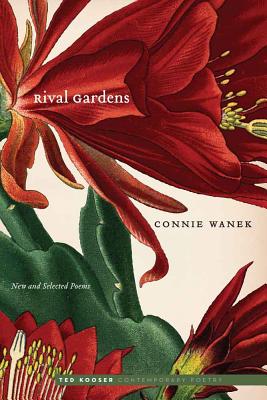 Rival Gardens (Paperback)
New and Selected Poems (Ted Kooser Contemporary Poetry)
University of Nebraska Press, 9780803269644, 204pp.
Publication Date: February 1, 2016
* Individual store prices may vary.
Description
For decades a restorer of old homes, Connie Wanek shows us that poetry is everywhere, encountered as easily in the waterways, landscapes, and winters of Minnesota, as in the old roofs and darkened drawers of a home long uninhabited. Rival Gardens includes more than thirty unpublished poems, along with poems selected from three previous books—all in Wanek's unmistakable voice: plainspoken and elegant, unassuming and wise, observant and original. Many of her new poems focus on the garden, beginning with the Garden of Eden.
A deep feeling for family and for the losses and gains of growing into maturity mark the tone of Rival Gardens, with Wanek always attending to the telling detail and the natural world.
About the Author
Connie Wanek is the author of three books of poetry—Bonfire, Hartley Field, and On Speaking Terms—and the coeditor of the award-winning anthology To Sing Along the Way: Minnesota Women Poets from Pre-territorial Days to the Present. She has been a Witter Bynner Fellow of the Library of Congress and was named George Morrison Artist of the Year, an honor given to a northern Minnesotan for contributions to the arts over many years. She has lived for decades in Duluth, Minnesota.
Praise For Rival Gardens: New and Selected Poems (Ted Kooser Contemporary Poetry)…
"Beautiful in every respect."—Tim Nolan, MN Artists
— Tim Nolan
"An instant favorite of mine."—Danny Heitman, Christian Science Monitor
— Danny Heitman
"Equal parts marvel and pang, Rival Gardens documents the grit, heart, and wisdom of an ecopoetic sage."—Plume Poetry
— Plume Poetry
"Wanek's imagery is consistently outstanding."—Edward A. Dougherty, Rain Taxi
— Edward A. Dougherty
"Readers who are already fans of Wanek will be overjoyed with Rival Gardens. For those who are new to Wanek, this is the perfect collection for wading into the full scope of her amazing poetry."—Andrew Nye, Corresponder
— Andrew Nye
"Connie Wanek's beautiful poems travel effortlessly among our various realms—the human, the natural, and the cosmic, inhabited by gods who may have some resemblance to ourselves. The light is wonderfully clear in these accounts, as is the darkness, each one illuminating the other."—Charles Baxter, author of There's Something I Want You to Do
— Charles Baxter
"Connie Wanek is one of the best poets of our time, and this new book, Rival Gardens, certainly demonstrates that. These selections . . . are works of wit and subtlety, of clarity, great generosity, and precise vision that make this book a treasure to read again and again."—Louis Jenkins, author of Before You Know It and Tin Flag
— Louis Jenkins
"In Wanek's earth-proud, glorious work, all elements are in communication: a chimney offers 'a plume of smoke hand-feeding the wind,' a radish 'bites you back,' and a moose's 'grave eyes' are 'reminiscent somehow of Abe Lincoln.' The first time I found her poems I phoned them to friends before making it past the library stairs. Rival Gardens offers a thrilling gift to anyone who loves metaphors, human beings, compassion, and the revelation of sly observation—I'm sending out a cosmic call: these lyric narratives bring you life through a consciousness you wish you had lived."—Jessica Greenbaum, editor of upstreet and author of The Two Yvonnes
— Jessica Greenbaum