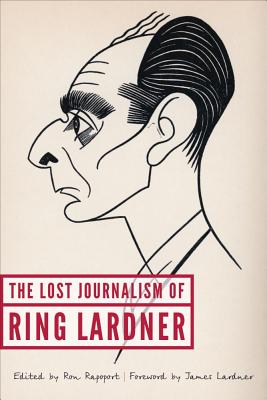 The Lost Journalism of Ring Lardner (Hardcover)
University of Nebraska Press, 9780803269736, 592pp.
Publication Date: January 1, 2017
* Individual store prices may vary.
Description
Ring Lardner's influence on American letters is arguably greater than that of any other American writer in the early part of the twentieth century. Lauded by critics and the public for his groundbreaking short stories, Lardner was also the country's best-known journalist in the 1920s and early 1930s, when his voice was all but inescapable in American newspapers and magazines. Lardner's trenchant, observant, sly, and cynical writing style, along with a deep understanding of human foibles, made his articles wonderfully readable and his words resonate to this day.

Ron Rapoport has gathered the best of Lardner's journalism from his earliest days at the South Bend Times through his years at the Chicago Tribune and his weekly column for the Bell Syndicate, which appeared in 150 newspapers and reached eight million readers. In these columns Lardner not only covered the great sporting events of the era—from Jack Dempsey's fights to the World Series and even an America's Cup—he also wrote about politics, war, and Prohibition, as well as parodies, poems, and penetrating observations on American life.

The Lost Journalism of Ring Lardner reintroduces this journalistic giant and his work and shows Lardner to be the rarest of writers: a spot-on chronicler of his time and place who remains contemporary to subsequent generations.
 
About the Author
Ring Lardner (1885–1933) was one of the most popular and innovative American writers of the early twentieth century. He influenced many writers who followed, with his acute observations winning praise from Hemingway, Woolf, Fitzgerald, and Wilson and his short stories remain popular a century later. Ron Rapoport was a sports columnist for the Chicago Sun-Times and the Los Angeles Daily News and is the author of numerous books about sports and show business. In 2016 he was awarded the Ring Lardner Award for Excellence in Sports Journalism. James Lardner is a writer and political activist who lives outside Washington DC.
Praise For The Lost Journalism of Ring Lardner…
"It's good to have the lost treasure of Ring Lardner the journalist back with us again. At long last."—Patrick T. Reardon, Chicago Tribune
— Patrick T. Reardon
"A godsend."—Steve Donoghue, Open Letters Monthly
— Steve Donoghue
"[The Lost Journalism of Ring Lardner] should be required reading for sports journalists who want to know the roots of their profession."—Ed Sherman, Poynter
— Ed Sherman
"This book is an absolute jewel. I not only want to read all of it again; I want to take it on a car date. Ron Rapoport has contributed a masterful collection to the world of sports and literature."—Dan Jenkins  
 
— Dan Jenkins
"Ring Lardner was brilliant—a great newspaper columnist and an even greater short story writer. If you know his work, you'll love this anthology; if you don't know his work, prepare to be entertained by one of the funniest, most original voices America has ever produced."—Dave Barry
 
 
— Dave Barry
"It's always great to have more Lardner, and here is a fine new trove of him."—Roy Blount Jr.
— Roy Blount Jr.
"This book is a boon to fans and scholars of Lardner's work alike. I applaud the smart, well-informed introductions and the careful scholarship throughout. Then there is the genius of Lardner himself to savor. This is an important contribution to Lardner studies."—Richard Layman, author, publisher, and coeditor of Ring W. Lardner: A Bibliography
 
— Richard Layman
Coverage from NPR