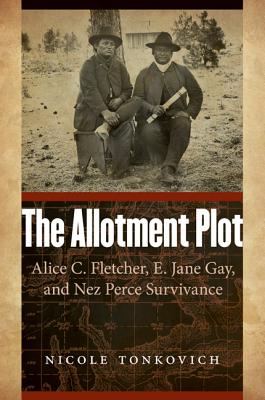 The Allotment Plot (Hardcover)
Alice C. Fletcher, E. Jane Gay, and Nez Perce Survivance
University of Nebraska Press, 9780803271371, 440pp.
Publication Date: November 1, 2012
* Individual store prices may vary.
Description
The Allotment Plot reexamines the history of allotment on the Nez Perce Reservation from 1889 to 1892 to account for and emphasize the Nez Perce side of the story. By including Nez Perce responses to allotment, Nicole Tonkovich argues that the assimilationist aims of allotment ultimately failed due in large part to the agency of the Nez Perce people themselves throughout the allotment process. The Nez Perce were actively involved in negotiating the terms under which allotment would proceed and simultaneously engaged in ongoing efforts to protect their stories and other cultural properties from institutional appropriation by the allotment agent, Alice C. Fletcher, who was a respected anthropologist, and her photographer and assistant, E. Jane Gay. The Nez Perce engagement in this process laid a foundation for the long-term survival of the tribe and its culture.
Making use of previously unknown archival sources, Fletcher's letters, Gay's photographs and journalistic accounts, oral tribal histories, and analyses of performances such as parades and verbal negotiations, Tonkovich assembles a masterful portrait of Nez Perce efforts to control their own future and provides a vital counternarrative of the allotment period, which is often portrayed as disastrous to Native polities.
 
About the Author
Nicole Tonkovich is an associate professor of literature at the University of California, San Diego. She is the coauthor of
Trading Gazes: Euro-American Women Photographers and Native North Americans, 1880–1940
and the author of
Domesticity with a Difference: The Nonfiction of Catharine Beecher, Sarah J. Hale, Fanny Fern, and Margaret Fuller
.
Praise For The Allotment Plot: Alice C. Fletcher, E. Jane Gay, and Nez Perce Survivance…
"The Allotment Plot is a refreshing, nuanced, and insightful reinterpretation of a moment in Nez Perce history that illuminates both the blind nature of federal policy and the tribal resilience reflected in post-reservation Indian resistance and selfdetermination."—David R. M. Beck, American Historical Review
— David R. M. Beck
"A meticulously researched and carefully developed analysis of events before, during, and after allotment on the Nez Perce reservation."—Elizabeth James, Oregon Historical Quarterly
— Elizabeth James
"The Allotment Plot is a good addition to the field and offers readers much to consider."—C. Joseph Genetin-Pilawa, H-Net
— C. Joseph Genetin-Pilawa