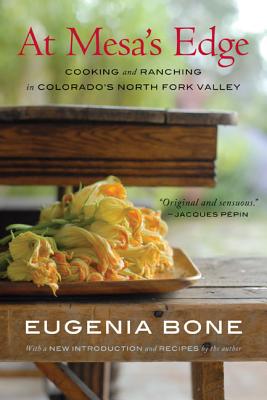 At Mesa's Edge
Cooking and Ranching in Colorado's North Fork Valley
Paperback

* Individual store prices may vary.
Description
Although Eugenia Bone was perfectly happy with her life as a New York City food writer, she knew that her husband, a transplanted westerner, was filled with a discontent he couldn't explain. So when he returned from a fishing trip in the Rockies one day and announced that he wanted to buy a forty-five-acre ranch in Crawford, Colorado (population 404), she reluctantly said yes. She then loaded imported pasta, artichokes in oil, and cured Italian salami into her duffle bag, and headed west with her two young children.
At Mesa's Edge is a witty, often moving story of ranch restoration and of struggles with defiant skunks, barbed wire, marauding cows, and loneliness. Eugenia learns to garden in the drought, to fly-fish, and to forage, all the while discovering the bounty of the region. She fries zucchini flowers in batter and dips them in cilantro-flavored mayonnaise, grills flavorful T-bones from the local ranchers' grass-fed beef, pan-fries trout, fills crepes with wild mushrooms, and makes cherry pies with thick, sugary crusts. Gradually, she begins to adjust to the rhythms of the land.
Partly a memoir, partly a cookbook with more than one hundred appealing recipes, At Mesa's Edge is a transporting tale of rejuvenation, a celebration of everything local, and a reminder that the best food is to be found in our own backyards.

Praise For At Mesa's Edge: Cooking and Ranching in Colorado's North Fork Valley…
"Eugenia Bone's memoir and cookbook is the kind of book I love. It teaches us how, with a little curiosity and persistence, we can find food that connects us in a beautiful and profound way to the place in which we live."—Alice Waters, owner of Chez Panisse


"Bone proves herself an Alice Waters of the outback."—Outside magazine


"At Mesa's Edge stands out for its 100-page memoir on trading life in the city for life on a Colorado ranch. This is inspired reading."—USA Today


"[Bone] proves she is heir, in a way, to Pat Wells and Peter Mayle."—Newsweek


"Original and sensuous. . . . An elegant writer, Eugenia Bone makes us aware of the profound intimacy between the cook and nature. . . . Unique and very personal recipes."—Jacques Pépin



"If you find lyrical writing a happy counterpoint to recipes, you'll probably be charmed by At Mesa's Edge."—Saveur magazine
Bison Books, 9780803271494, 376pp.
Publication Date: October 1, 2012
About the Author
Eugenia Bone is the author of Mycophilia: New Revelations from the Weird World of Mushrooms, Well-Preserved: Recipes and Techniques for Putting Up Small Batches of Seasonal Foods, and Italian Family Dining, written with her father, Edward Giobbi. She also writes a blog for the Denver Post about preserving foods, called Well Preserved.