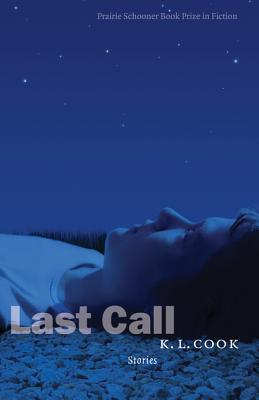 Last Call (Paperback)
Stories (Prairie Schooner Book Prize in Fiction)
Bison Books, 9780803271715, 270pp.
Publication Date: October 1, 2013
Other Editions of This Title:
Hardcover (10/1/2004)
* Individual store prices may vary.
Description
In this tenth anniversary edition of K. L. Cook's debut collection, the linked stories of Last Call span three generations in the life of one West Texas family. Events both tender and tragic lead to a strange and lovely vision of a world stitched together in tenuous ways as the characters struggle to make sense of their lives amid the shifting boundaries of marriage, family, class, and culture.

A series of unusual incidents—a daughter's elopement, a sobering holiday trip, a vicious attack by the family dog, a lightning strike—provokes a mother of five to abandon her children. An oil rigger, inspired by sun-induced hallucinations, rescues his estranged wife, who doesn't appreciate his chivalry. In the wake of his father's and brother's deaths, a teenage boy finds precarious solace working with his mother at a country-western bar. A woman fleeing her fourth marriage arrives at a complicated understanding of love and responsibility.

Cook's stories—suggesting unlikely connections between comedy and pathos, cruelty and generosity—promise a hard-won dignity and hope.

About the Author
K. L. Cook is the author of two other award-winning books of fiction, The Girl from Charnelle and Love Songs for the Quarantined. He teaches creative writing and literature at Prescott College and teaches in the MFA writing program at Spalding University.
Praise For Last Call: Stories (Prairie Schooner Book Prize in Fiction)…
"In Cook's hands, the series of linked stories introducing us to three generations of Tates fairly thrums with keen insight borne of uncommon wisdom and unwavering compassion for his characters. . . . As each of the Tates takes his or her turn in the spotlight, we come to know a family shaken by violence, overcome by sorrow, and most of all, driven by a palpable longing for something or someone always just out of reach. Cook's debut collection is a breathtakingly haunting and magical tapestry of human emotions."—Booklist
— Booklist
"Cook is subtle as he illuminates the fragile connections between men and women. A family's trajectory is viewed through a kaleidoscope of time in stories that make an immensely satisfying whole."—Kirkus (starred review)
— Kirkus
"Cook's debut short story cycle deftly chronicles the often fractious and brutal lives of the Tates of West Texas, who are indelibly scarred when the family matriarch clandestinely boards a bus one morning, never to return."—Library Journal
 

— Library Journal
"Quizzically touching and genuine, Cook invites us to enjoy whatever happiness we find, just as his ever-unsuspecting characters do. When we put down the book, we consider our own warped and accidental familial connections and wonder for what strange and beautiful misfortune our children's children might blame us."—Dustin Michael, Rain Taxi
— Dustin Michael
"The dozen interlocking stories in K. L. Cook's Last Call are highly crafted, without an unneeded word or a scene that does not contribute to the whole, with actions, objects and dialogue that sting with significance."—Martin Naparsteck, Salt Lake Tribune
— Martin Naparsteck
"Cook understands the intersection between coincidence and insight, and he demonstrates a flair for picking out those random and nonsensical moments . . . that, when paired with a narrator's retrospect, create meaning."—Nicole Backens, Colorado Review


— Nicole Backens