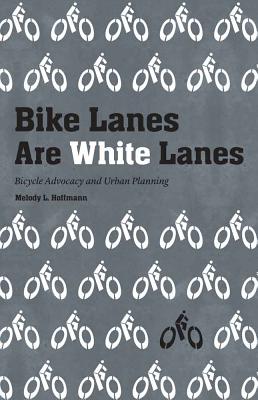 Bike Lanes Are White Lanes
Bicycle Advocacy and Urban Planning
Hardcover

* Individual store prices may vary.
Other Editions of This Title:
Paperback (12/1/2020)
Description
The number of bicyclists is increasing in the United States, especially among the working class and people of color. In contrast to the demographics of bicyclists in the United States, advocacy for bicycling has focused mainly on the interests of white upwardly mobile bicyclists, leading to neighborhood conflicts and accusations of racist planning.

In Bike Lanes Are White Lanes, scholar Melody L. Hoffmann argues that the bicycle has varied cultural meaning as a "rolling signifier." That is, the bicycle's meaning changes in different spaces, with different people, and in different cultures. The rolling signification of the bicycle contributes to building community, influences gentrifying urban planning, and upholds systemic race and class barriers.

In this study of three prominent U.S. cities—Milwaukee, Portland, and Minneapolis—Hoffmann examines how the burgeoning popularity of urban bicycling is trailed by systemic issues of racism, classism, and displacement. From a pro-cycling perspective, Bike Lanes Are White Lanes highlights many problematic aspects of urban bicycling culture and its advocacy as well as positive examples of people trying earnestly to bring their community together through bicycling.
             
 
 
Praise For Bike Lanes Are White Lanes: Bicycle Advocacy and Urban Planning…
"Environmental historians interested in urban issues will profit from Hoffmann's look at social justice issues associated with "green" development. For urban planning students, as well as anyone involved in city planning, this book could be considered required reading. Bicycle advocates will find the work provocative and a stimulus toward more inclusive efforts in creating better transportation options for all city residents. Hoffmann has written an important and significant contribution to scholarship and to public discussions about bicycles, urban living, and development."—James A. Pritchard, Environmental History

"Powerfully relevant."—Cat Ariail, Sport in American History

"For anyone interested in the urban role of cycling, this is an important book. Informed by an overdue concern with race, class, and gender, it critically redresses imbalances in our current understandings of cycling. [Hoffmann] usefully punctures a general liberal, middle-class complacency over the implicitly assumed superiority of the bicycle. . . . Indispensable reading if our goal is to broaden cycling's appeal and to make inclusive and just cities, as well as genuinely ecologically sustainable ones."—Dave Horton, author of Promoting Walking and Cycling: New Perspectives on Sustainable Travel



"Important to many fields: transportation, race, city planning, housing and migration, sustainability, community organizing, planning and policy processes, and equity. . . . In the emerging scholarship concerning 'bike equity,' Melody Hoffmann is an early and influential entrant."—Julian Agyeman, author of Incomplete Streets: Processes, Practices and Possibilities
University of Nebraska Press, 9780803276789, 210pp.
Publication Date: July 1, 2016
About the Author
Melody L. Hoffmann is an instructor of communication studies and journalism at Anoka Ramsey Community College. Her work has been anthologized in Culture on Two Wheels: The Bicycle in Literature and Film (Nebraska, 2016).