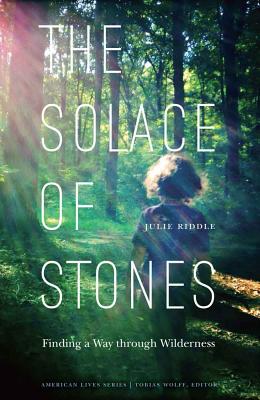 The Solace of Stones (Paperback)
Finding a Way through Wilderness (American Lives )
Bison Books, 9780803276864, 300pp.
Publication Date: April 1, 2016
* Individual store prices may vary.
Description
Everything changes when Julie Riddle's parents stumble across the wilderness survival guide How to Live in the Woods on Pennies a Day. In 1977, when Riddle is seven years old, she and her family—fed up with the challenges of city life—move to the foot of the Cabinet Mountains Wilderness in northwestern Montana. For three years they live in the primitive basement of the log house they are building by hand in the harsh, remote Montana woods. Meanwhile, haunted by the repressed memory of childhood sexual abuse, Riddle struggles to come to terms with the dark shadows that plague her amid entrenched cultural and gender mores enforced by enduring myths of the West.

As Riddle grapples with her own painful secrets, she discovers the world around her and its impact on people—the demands of living in a rural, mountain community dependent on boom-and-bust mining and logging industries, the health and environmental crises of the W. R. Grace asbestos contamination and EPA cleanup, and the healing beauty of the Montana wild. More than simply a memoir about family and place, The Solace of Stones explores Riddle's coming of age and the complexities of memory, loss, and identity borne by a family homesteading in the modern West.
About the Author
Julie Riddle is a senior writer at Whitworth University as well as a craft essay editor for
Brevity
and creative nonfiction editor for
Rock and Sling
.
Praise For The Solace of Stones: Finding a Way through Wilderness (American Lives )…
"A superb, eloquent memoir that sings with imagery."—JerriAnn Geller, Booktrib
— JerriAnn Geller
"Heartbreaking, courageous, and written with rare beauty. The Solace of Stones will be a western classic."—Mary Clearman Blew, author of All But the Waltz
— Mary Clearman Blew
"The Solace of Stones is intimate, eloquent, and, at times, pierces the heart. Julie Riddle is a natural storyteller, and her tale of innocence, loss, and a family's log cabin in the Montana mountains is beautifully revealed in exquisite, sensory prose."—Dinty W. Moore, author of Between Panic and Desire
— Dinty W. Moore
"This is not a sentimental story of recovery—it is a powerful story of renewal."—Sherry Simpson, author of Dominion of Bears: Living with Wildlife in Alaska
— Sherry Simpson