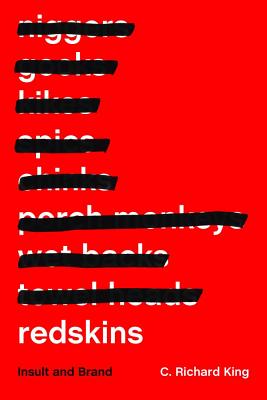 Redskins (Hardcover)
Insult and Brand
University of Nebraska Press, 9780803278646, 256pp.
Publication Date: March 1, 2016
Other Editions of This Title:
Paperback (3/1/2019)
* Individual store prices may vary.
Description
The Washington Redskins franchise remains one of the most valuable in professional sports, in part because of its easily recognizable, popular, and profitable brand.
 

And yet "redskins" is a derogatory name for American Indians.


The number of grassroots campaigns to change the name has risen in recent years despite the current team owner's assertion that the team will never do so. Franchise owners counter criticism by arguing that the team name is positive and a term of respect and honor that many American Indians embrace. The NFL, for its part, actively defends the name and supports it in court.


Prominent journalists, politicians, and former players have publicly spoken out against the use of "Redskins" as the name of the team. Sportscaster Bob Costas denounced the name as a racial slur during a halftime show in 2013. U.S. Representative Betty McCollum marched outside the stadium with other protesters––among them former Minnesota Vikings player Joey Browner––urging that the name be changed.


Redskins: Insult and Brand examines how the ongoing struggle over the team name raises important questions about how white Americans perceive American Indians, about the cultural power of consumer brands, and about continuing obstacles to inclusion and equality. C. Richard King examines the history of the team's name, the evolution of the term "redskin," and the various ways in which people both support and oppose its use today. King's hard-hitting approach to the team's logo and mascot exposes the disturbing history of a moniker's association with the NFL—a multibillion-dollar entity that accepts public funds—as well as popular attitudes toward Native Americans today.
About the Author
C. Richard King is a professor and chair of humanities, history, and social sciences at Columbia College Chicago. He is the author or editor of more than a dozen books, including Team Spirits: The Native American Mascots Controversy (Nebraska, 2001) and Native Athletes in Sport and Society: A Reader (Nebraska, 2006).

 
Praise For Redskins: Insult and Brand…
"[A] must-read book."—Chicago Tribune
— Chicago Tribune
"Those seeking a deeper understanding of the anti-Skins crusade will find a vibrant apostle in C. Richard King. . . . Illuminating."—Dave Shiflett, Wall Street Journal
— Dave Shiflett
"King shows why this controversy matters well beyond the football field."—Kirkus
— Kirkus
"An important and must-read book for understanding the Redskins controversy."—Andrew McGregor, Sport in American History
— Andrew McGregor
"The absolute high-water mark study of the contours surrounding the logics of contemporary mascotting."—Jason Edward Black, American Indian Culture and Research Journal
— Jason Edward Black
"A vital work that will make a significant impact on our grasp of and debate over this issue."—Kevin Bruyneel, Native American and Indigenous Studies
— Kevin Bruyneel
"An insightful resource for sports fans, sociologists, and critical sport researchers."—Munira Abdulwasi, AlterNative
— Munira Abdulwasi
"This study is vital not just for academics . . . , but also for the wider public, especially fans of American Football."—Ruth Flaherty, Cultural Sociology
— Ruth Flaherty
"King's study is powerful, well researched, compelling, and honest."—Daniel Casey, Misanthropester Blog
— Daniel Casey
"This book is one that should be read by anyone who cares about the use of this name by the team, no matter on what side of the issue the reader currently sits."—Lance Smith, The Guy Who Reviews Sports Books
— Lance Smith
"True meaningful change comes when whites actively address history, power, and race as manifested in US settler colonialism. King's most important assertions are what we can do now to promote change. . . . This book matters now more than ever."—Hannah Blubaugh, American Indian Quarterly
— Hannah Blubaugh
"If you oppose the use of a racist slur as the name of the NFL franchise that represents the nation's capital, this is the book for which you've been waiting. If you don't, this is the book you need to read."—Lawrence R. Baca (Pawnee), former national president of the National Native American Bar Association 
— Lawrence R. Baca
"This book is a must-read for academicians, policy makers, lawyers, and sports fans. King takes us to the root of American insensibilities, racist attitudes, and the invention of connotations, and in the end he offers hope and ways to recognize humanity."—Manley A. Begay Jr. (Navajo), professor in the Department of Applied Indigenous Studies at Northern Arizona University 
— Manley A. Begay Jr.
"King provides an insightful and engaging story of the meaning and power of a single word that has influenced people's lives for nearly three centuries."—Jay Coakley, author of Sports in Society: Issues and Controversies
— Jay Coakley
"Moving and compelling, author Richard King's carefully crafted words resonate with a deep humanity. . . . Sports executives, sports marketers, journalists, public policy makers, educators, and citizens need to read this book."—Ellen J. Staurowsky, professor of sport management at Drexel University 
— Ellen J. Staurowsky
"King's book is a must-read for those who seek to understand the experience of contemporary activists as they challenge the use of Native American logos, epithets, and imagery as sports mascots."—Jennifer Guiliano, author of Indian Spectacle: College Mascots and the Anxiety of Modern America
— Jennifer Guiliano
"If you're still sitting on the fence, King's impressive research and expert delineation of the controversy will convince you it's time to rethink the name and change it now."—Linda M. Waggoner, historian and author of Fire Light: The Life of Angel De Cora, Winnebago Artist
— Linda M. Waggoner