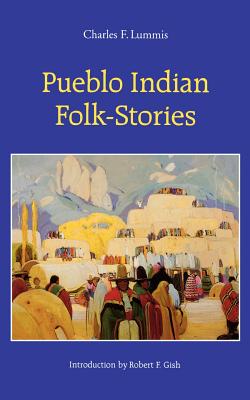 Pueblo Indian Folk-Stories (Paperback)
University of Nebraska Press, 9780803279384, 257pp.
Publication Date: May 1, 1992
Other Editions of This Title:
Paperback (1/22/2010)
Hardcover (5/26/2017)
Paperback (5/26/2017)
Paperback (4/23/2018)
Hardcover (4/30/2009)
Paperback (4/19/2009)
Paperback (4/19/2009)
Hardcover (4/30/2009)
* Individual store prices may vary.
Description
Charles F. Lummis's profound understanding of Indian and Spanish culture in the American Southwest is reflected in this collection of thirty-two myths centering around the Pueblo of Isleta on the Rio Grande. In adapting these traditional oral tales, Lummis drew on his experience of living at Isleta and his familiarity with the native language. originally published in 1894, Pueblo Indian Folk-Stories is as enchanting as ever. Seven elders seated around a campfire take turns telling about Antelope Boy. the fabled coyote, the man who married the moon, the snake-girls, the sobbing pine, the feathered barbers, the hero twins, the revengeful fawns, and other natural and supernatural entities. Beautifully wrought, these wisdom and initiation stories speak to all who have not lost their sense of wonder.
About the Author
Charles F. Lummis, who founded the Southwest Museum in Los Angeles, wrote such books as A Tramp across the Continent, also reprinted in a Bison Book edition. Robert F. Gish is Director of Ethnic Studies and a professor of English and Ethnic Studies at California Polytechnic State University, San Luis Obispo. His books include Frontiers End: The Life and Literature of Harvey Fergusson published by the University of Nebraska Press.