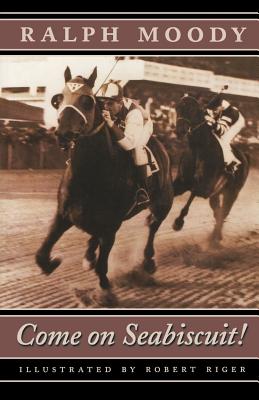 Come on Seabiscuit!
Paperback

* Individual store prices may vary.
Other Editions of This Title:
Digital Audiobook (12/31/2006)
Compact Disc (3/15/2012)
Compact Disc (12/1/2003)
Description
Master storyteller Ralph Moody tells the thrilling story of a plucky horse who refused to quit, a down-on-his-luck jockey who didn't let horrendous accidents keep him out of the saddle, and a taciturn trainer who brought out the best in both. During the Great Depression, Seabiscuit captured the hearts of Americans from the streets to the White House, winning more money than any horse at that time and shattering speed records across the country. In this real-life story Moody captures the hoof-pounding excitement of the explosive early races to an unforgettable showdown with the feared Triple Crown winner War Admiral. Moving and inspirational, Come on Seabiscuit! is a reminder of the qualities that make a real American champion. Ralph Moody is best known for his eight Little Britches books, which have delighted generations of readers and are all available in Bison Books editions. Ralph Moody captured the hearts of young readers everywhere with his beloved Little Britches saga. In this Bison Books edition of his 1963 classic, Moody brings to life the story of a knobby-kneed little colt called Seabiscuit, who against all odds became one of the most celebrated racehorses of all time. Although Seabiscuit was the grandson of the legendary Man O' War, he was neither handsome nor graceful. His head was too big, his legs too short, and his gallop was awkward. His owners gave up on Seabiscuit when he was two, raced him too heavily, and tried unsuccessfully to sell him. It took the keen eyes of trainer Tom Smith to recognize the heart, courage, and gallant determination of Seabiscuit, the qualities of a truly great horse. Smith's unfailing patience and astute treatments, the love and skill of jockey Red Pollard, and the continued support of owner Charles Howard forged Seabiscuit into a champion.
Purchase the audio edition.
Praise For Come on Seabiscuit!…
"When I was about seven years old. . . . I found a children's book called Come on Seabiscuit! which was just wonderful! I read it so many times I broke the spine and all the pages fell out. I still have it; it has to be wrapped in rubber bands because the pages will go everywhere. But that book in just vivid prose told the story of the horse."—Laura Hillenbrand, July 29, 2003, interview on Fresh Air with Terry Gross

"One unlikely offshoot of the Seabiscuit phenomenon . . . was a lovely reminder of the way horse-racing writing used to be done: Ralph Moody's Come on Seabiscuit! was recently brought back into print by the University of Nebraska Press. . . . [W]hat is remarkable about the book—and what makes it rewarding even decades after reading it the first time—is the level of detail about the scrawny racehorse. . . . Ultimately, the reason Come on Seabiscuit! and King of the Wind and Black Stallion are so memorable is that they are outstanding children's literature, not just outstanding children's literature about racing. Just as racetrackers never forget the great horses, we never forget the books that left a mark on us. [M]aybe the Seabiscuit effect wouldn't have been possible without books like Come on Seabiscuit!"—Eric Banks, slate.msn.com

"Horse racing fans will enjoy the paperback reprint of Ralph Moody's classic tale Come on Seabiscuit!, originally published in 1963. Seabiscuit, the plucky Depression-era racehorse, has gained a new generation of fans since the 2003 Universal Pictures' film release by the same name, and his fans should enjoy Moody's small, easy-to-read volume with black-and-white illustrations by Robert Riger."—Western Horseman

"Written in a folksy, easily understood prose, this illustrated predecessor to Laura Hillenbrand's book about the racehorse (the basis for this summer's movie) is a great pre-movie primer for anyone under 18."—Christy Karras, The Salt Lake Tribune

"Young Adults will love the excitement and the empathy expressed in this story, which is told in language that was held up well for 40 years. Beautiful pencil sketches of the horse and racetrack culture fill the book. This is an inspirational story for those who need to know that one failure does not mean a life of failures and that often critics can be proven wrong."—Kliatt
Bison Books, 9780803282872, 172pp.
Publication Date: March 1, 2003
About the Author
Ralph Moody (1898–1982) was a working cowboy from the age of ten, a trick rodeo rider, and a student of good horseflesh. He is the author of Come on Seabiscuit! as well as the Little Britches series about a boy's life on a Colorado ranch, all available in Bison Books editions.