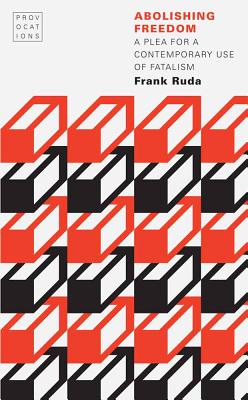 Abolishing Freedom (Paperback)
A Plea for a Contemporary Use of Fatalism (Provocations)
University of Nebraska Press, 9780803284371, 210pp.
Publication Date: May 1, 2016
* Individual store prices may vary.
Description
Pushing back against the contemporary myth that freedom from oppression is freedom of choice, Frank Ruda resuscitates a fundamental lesson from the history of philosophical rationalism: a proper concept of freedom can arise only from a defense of absolute necessity, utter determinism, and predestination.

Abolishing Freedom demonstrates how the greatest philosophers of the rationalist tradition and even their theological predecessors—Luther, Descartes, Kant, Hegel, Freud—defended not only freedom but also predestination and divine providence. By systematically investigating this mostly overlooked and seemingly paradoxical fact, Ruda demonstrates how real freedom conceptually presupposes the assumption that the worst has always already happened; in short, fatalism. In this brisk and witty interrogation of freedom, Ruda argues that only rationalist fatalism can cure the contemporary sickness whose paradoxical name today is freedom.
 
About the Author
Frank Ruda is an interim professor for the philosophy of audiovisual media at the Bauhaus University in Weimar, Germany, and a visiting lecturer at Slovenian Academy of Sciences and Arts. He is the author of Hegel's Rabble: An Investigation into Hegel's Philosophy of Right and For Badiou: Idealism without Idealism.
Praise For Abolishing Freedom: A Plea for a Contemporary Use of Fatalism (Provocations)…
"Frank Ruda's Abolishing Freedom is both philosophically and stylistically daring."—Michael Principe, Marx & Philosophy 
— Michael Principe
"Abolishing Freedom is not only the very acme of today's philosophy, but much more—it is a book for everyone who is tired of all the ideological babble about freedom of choice."—Slavoj Žižek, author of Absolute Recoil: Towards a New Foundation of Dialectical Materialism  


— Slavoj Žižek
"Appropriating it as a natural right, a possession that can be taken away, the sign of the subject's sovereignty, liberalism has given freedom a bad name. Yet how to think without acknowledging the fact of freedom? In his delightful book, Ruda shows us the way. Reducing the liberal edifice to rubble, he rescues a freedom that is in no way ad libitum."—Joan Copjec, author of Imagine There's No Woman: Ethics and Sublimation
 
— Joan Copjec
"This is an utterly captivating, smart, provocative book—compelling in its argument, fascinating in its detail, sobering in its implications. Absolutely exhilarating."—Rebecca Comay, author of Mourning Sickness: Hegel and the French Revolution
— Rebecca Comay