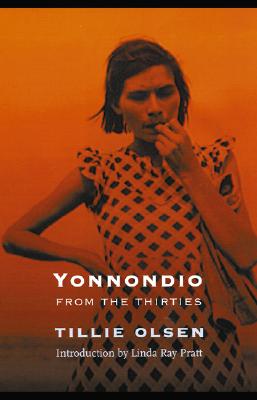 Yonnondio (Paperback)
From the Thirties
Bison Books, 9780803286214, 196pp.
Publication Date: October 1, 2004
Description
Yonnondio
follows the heartbreaking path of the Holbrook family in the late 1920s and the Great Depression as they move from the coal mines of Wyoming to a tenant farm in western Nebraska, ending up finally on the kill floors of the slaughterhouses and in the wretched neighborhoods of the poor in Omaha, Nebraska.
Mazie, the oldest daughter in the growing family of Jim and Anna Holbrook, tells the story of the family's desire for a better life - Anna's dream that her children be educated and Jim's wish for a life lived out in the open, away from the darkness and danger of the mines. At every turn in their journey, however, their dreams are frustrated, and the family is jeopardized by cruel and indifferent systems.
About the Author
Tillie Olsen (1912-2007) grew up in Omaha, Nebraska, and lived most of her adult life in San Francisco. She is the author of Silences and the short-story collection Tell Me a Riddle. Linda Ray Pratt is a professor in and chair of the Department of English at the University of Nebraska-Lincoln. She is the author of Matthew Arnold Revisited.
Praise For Yonnondio: From the Thirties…
"[Olsen] evokes the very feel of poverty, not in the sharp-focused naturalistic detail of the muckrakers, but in broad powerful strokes of which the paint is emotion, sensation, apprehension."—New York Times Book Review

"Ms. Olsen''s unfolding of what [poverty] does to each [character] is both powerful and poignant in its impact, and not coincidentally, revealing in terms of what the Depression meant to a whole generation."—Publisher''s Weekly
Advertisement