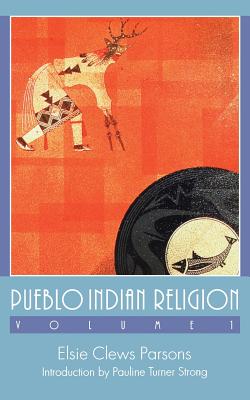 Pueblo Indian Religion, Volume 1 (Paperback)
University of Nebraska Press, 9780803287358, 577pp.
Publication Date: April 1, 1996
Other Editions of This Title:
Paperback (4/1/1996)
* Individual store prices may vary.
Description
The rich religious beliefs and ceremonials of the Pueblo Indians of Arizona and New Mexico were first synthesized and compared by ethnologist Elsie Clews Parsons. Prodigious research and a quarter-century of fieldwork went into her 1939 encyclopedic two-volume work, Pueblo Indian Religion.
The author gives an integrated picture of the complex religious and social life in the pueblos, including Zuni, Acoma, Laguna, Taos, Isleta, Sandia, Jemez, Cochiti, Santa Clara, San Felipe, Santa Domingo, San Juan, and the Hopi villages. In volume I she discusses shelter, social structure, land tenure, customs, and popular beliefs. Parsons also describes spirits, cosmic notions, and a wide range of rituals.
The cohesion of spiritual and material aspects of Pueblo culture is also apparent in volume II, which presents an extensive body of solstice, installation, initiation, war, weather, curing, kachina, and planting and harvesting ceremonies, as well as games, animal dances, and offerings to the dead. A review of Pueblo ceremonies from town to town considers variations and borrowings. Today, a half century after its original publication, Pueblo Indian Religion remains central to studies of Pueblo religious life.
About the Author
Elsie Clews Parsons, a prominent sociologist, turned her attention to anthropology at the age of forty, after a trip to the Southwest. Her investigations established her as an authority on the Pueblo culture and society. At the time of her death in 1941, she was president of the American Anthropological Association. She is the editor of
American Indian Life
, also available as a Bison Book.
Pauline Turner Strong, an assistant professor of anthropology at the University of Texas at Austin, is the author of the forthcoming Captive Selves, Captivating Others: The Practice and Representation of Captivity across the British-Amerindian Frontier, 1576–1776.
Ramón A. Gutiérrez, a professor of history and chair of the Department of Ethnic Studies at the University of California, San Diego, is the author of When Jesus Came the Corn Mothers Went Away: Marriage, Sexuality and Power in New Mexico, 1500–1846.
Praise For Pueblo Indian Religion, Volume 1…
"An indispensable source book for every student of Indian life."—Science
— Science
"A cornerstone and monumental contribution to American ethnology."—American Anthropologist
— American Anthropologist