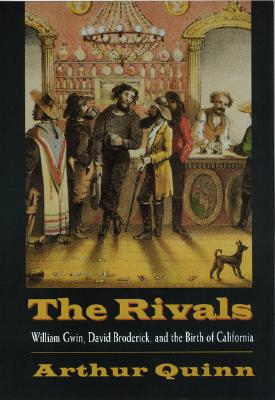 The Rivals (Paperback)
William Gwin, David Broderick, and the Birth of California
Bison Books, 9780803288515, 320pp.
Publication Date: September 1, 1997
* Individual store prices may vary.
Description
"This is the story of two men—of how they achieved great power and how through their implacable rivalry they destroyed each other," writes Arthur Quinn. Anticipating California's admission to the union, both came to the state in 1849 seeking a seat in the U.S. Senate. William McKendree Gwin, an aristocratic Southerner, and David Broderick, a veteran of the bare-knuckle politics of New York, struggled for control of California's Democratic Party during the 1850s. Their feud, personal as well as political, ended in violent death for one and disgrace for the other.
About the Author
Arthur Quinn is the author of numerous books including Hell with the Fire Out: A History of the Modoc War.
Praise For The Rivals: William Gwin, David Broderick, and the Birth of California…
"Brilliantly written with a verve that makes for addictive reading. This is history in the grand manner, all done with drama, humor, irony, and vision. Arthur Quinn opens a window for us, and the story he reveals is enough to make us sit up late, reading compulsively."—Richard Marius, author of After the War
— Richard Marius
"Fascinating."—Washington Post
— Washington Post
"Quinn performs his task in a richly straightforward way, depicting his colorful cast with a keen sense of the delicate meshing of the personal and the historical."—Kirkus
— Kirkus
"As Gwin tours mining camps and Broderick wanders through the back alleys and brothels of the city [San Francisco], readers get an unforgettable look at what daily life was like for the Forty-Niners."—San Jose Mercury News
— San Jose Mercury News