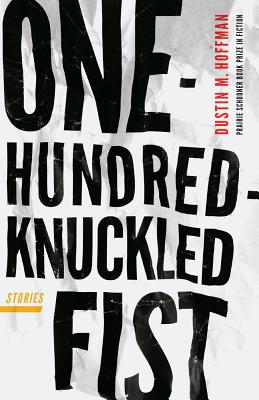 One-Hundred-Knuckled Fist (Paperback)
Stories (Prairie Schooner Book Prize in Fiction)
University of Nebraska Press, 9780803288546, 186pp.
Publication Date: September 1, 2016
* Individual store prices may vary.
Description
Rare voices in fiction, the lives of the working class consume this collection. Winner of the Prairie Schooner Book Prize in Fiction, One-Hundred-Knuckled Fist brings to life the narratives of midwestern blue-collar workers. In these sixteen stories, author Dustin M. Hoffman invites readers to peek behind the curtain of the invisible-but-ever-present "working stiff" as he reveals their lives in full complexity, offering their gruff voices—so often ignored—without censorship.
 
The characters at the heart of these stories work with their hands. They strive to escape invisibility. They hunt the ghost of recognition. They are painters, drywall finishers, carpenters, roofers, oil refinery inspectors, and hardscapers, all aching to survive the workday. They are air force firemen, snake salesmen, can pickers, ice-cream truck drivers, and Jamaican tour guides, seething forth from behind the scenes. They are the underemployed laborers, the homeless, the retired, the fired, the children born to break their backs. One-Hundred-Knuckled Fist initiates readers into the secret nightmares and surprising beauty and complexity of a sweat-stained, blue-collar world.
 
 
About the Author
Dustin M. Hoffman painted houses in Michigan for ten years and is now an assistant professor of English at Winthrop University in South Carolina. His short fiction has appeared in many magazines, including Threepenny Review, Black Warrior Review, Puerto del Sol, Midwestern Gothic, and Cimarron Review, and his story "Building Walls" received a Pushcart Prize special mention.
 
 
Praise For One-Hundred-Knuckled Fist: Stories (Prairie Schooner Book Prize in Fiction)…
"The joy found on the page makes for a thoroughly memorable read."—Publishers Weekly
— Publishers Weekly
"One-Hundred-Knuckled Fist is one of those reads that makes you want to scream about it from the rooftops immediately upon finishing."—Malcolm Avenue Review
— Malcolm Avenue Review
"This set of 16 stories takes the reader on a compelling trip through the pressure-cooker world of the blue-collar worker."—Shelf Awareness
— Shelf Awareness
"Who would have thought that stories about work could contain such magic, such music, such imaginative universality, so many desperadoes who cling to their jobs as madly as winos to their bottles? Dustin M. Hoffman has made a dazzling debut."—Jaimy Gordon, author of the National Book Award–winning Lord of Misrule
 
— Jaimy Gordon
"Heartfelt and humorous and always keen to the ways our working lives serve to reveal our more personal hopes and dreams. I won't soon forget these stories, which thrilled and moved me page after page."—Matt Bell, author of Scrapper 
 
— Matt Bell
"Utterly unique and so very important."—Donald Ray Pollock, author of The Devil All the Time and Knockemstiff
— Donald Ray Pollock