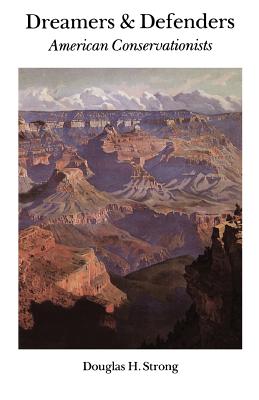 Dreamers and Defenders (Paperback)
American Conservationists
University of Nebraska Press, 9780803291560, 295pp.
Publication Date: November 1, 1988
Other Editions of This Title:
Hardcover (11/1/1988)
* Individual store prices may vary.
Description
In
Dreamers and Defenders
Douglas H. Strong relates the triumphs and defeats of twelve environmentalists from Henry David Thoreau to Barry Commoner. Their biographies form the dramatic and ongoing story of the conservation movement in America.
Beginning with Thoreau, Frederick Law Olmsted, and George Perkins Marsh, Strong shows that conservation enjoyed the support of a few writers and scientists even in the heyday of land development in the mid-nineteenth century. Later chapters are devoted to John Wesley Powell, who after the Civil War attempted to introduce enlightened land policies in the arid West; Gifford Pinchot, Theodore Roosevelt's chief forester; ]ohn Muir, who popularized the gospel of wilderness preservation; Stephen Mather, who launched the National Park Service; and Aldo Leopold, advocate of an ethical attitude toward the land. Other chapters deal with Harold Ickes, who as Franklin D. Roosevelt's secretary of the interior spurred conservation efforts and encouraged economic recovery from the Great Depression; David Brower, the controversial executive director of the Sierra Club; and Rachel Carson and Barry Commoner, who alerted Americans to the dangers of an environment increasingly polluted by toxic chemicals.
About the Author
Douglas H. Strong, a professor of history at San Diego State University, is the author of Tahoe: An Environmental History (Nebraska).