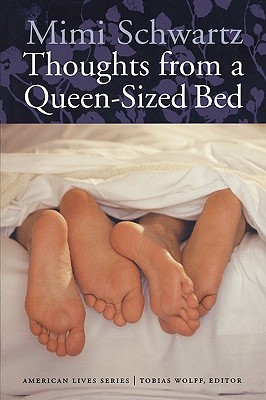 Thoughts from a Queen-Sized Bed (American Lives ) (Paperback)
Bison Books, 9780803292994, 160pp.
Publication Date: April 1, 2003
Other Editions of This Title:
Hardcover (4/1/2002)
* Individual store prices may vary.
Description
In this startlingly funny and wonderfully honest book of essays, Mimi Schwartz describes what it means to be married for almost forty years. She writes with a keen and amused eye about growing up in an immigrant Jewish family, coming of age in New York in the 1950s, marrying her high school beau, and then arriving at feminist consciousness in the 1970s like so many others of her generation. But unlike many of her contemporaries who left first marriages for independence, Schwartz stayed loyal to her marriage.
With refreshing candor Schwartz describes the ongoing challenge of marriage, where success is never without ambivalence and humor. Her essays are wise and warm without being sentimental, and the characters in Schwartz's world are quirky and as charming, well rounded, and complex as those found in any novel.
About the Author
Mimi Schwartz is a professor emerita of writing at Richard Stockton College. She is the author of Good Neighbors, Bad Times: Echoes of My Father's German Village and Writing True, the Art and Craft of Creative Nonfiction (co-authored with Sondra Perl).