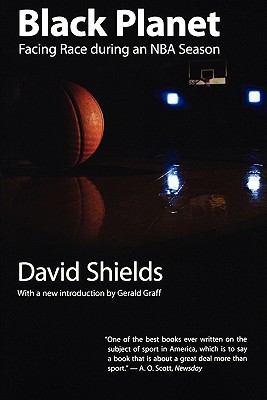 Black Planet
Facing Race during an NBA Season
Paperback

* Individual store prices may vary.
Description
The National Basketball Association is a place where white fans and black players enact virtually every racial issue and tension in U.S. culture. Following the Seattle SuperSonics for an entire season, David Shields explores how, in a predominantly black sport, white fans—including especially himself—think about and talk about black heroes, black scapegoats, and black bodies.
Critically acclaimed and highly controversial, Black Planet was a finalist for the National Book Critics Circle Award and the PEN USA Award, and was named one of the Top Ten Nonfiction Books of 1999 by Esquire, Newsday, Los Angeles Weekly, and Amazon.com.
Praise For Black Planet: Facing Race during an NBA Season…
"One of the best books ever written on the subject of sport in America, which is to say a book that is about a great deal more than sport."—A.O. Scott, Newsday
— A.O. Scott
"A risky and brilliant book. . . . It is an emotional journey into Jock Culture's heart of darkness. Shields is willing to write himself naked about the hungers and envies that move across the grandstand like the wave."—Robert Lipsyte, New York Times
— Robert Lipsyte
"Black Planet accomplishes a rare feat by tackling race head on."—Steven Hill, Chicago Tribune
— Steven Hill
"The diary of one fan's relationship with an NBA season. . . .  There's plenty of basketball, but there's also tons of race, class, sex, politics, and the personal life of a man obsessed with the game. He doesn't just slay sacred cows; he yanked out their guts and rolled around in them, all the while reflecting on the act." —Nathaniel Friedman, Chicago Sports Review
— Nathaniel Friedman
"Black Planet does the unexpected. It takes risks and says things that we know but have not articulated. A wonderful book."—Richard Rodriguez, author of Brown: The Last Discovery of America
— Richard Rodriguez
Bison Books, 9780803293540, 226pp.
Publication Date: December 1, 2006
About the Author
David Shields is the author of several other books, including the novels Dead Languages and Heroes (available in a Bison Books edition). His essays and stories have appeared in the New York Times Magazine, Harper's, and the Village Voice. Shields, a recent Guggenheim fellow, is a professor of English at the University of Washington. Gerald Graff is a professor of English and education at the University of Illinois at Chicago. His most recent books are Clueless in Academe: How Schooling Obscures the Life of the Mind and (with Cathy Birkenstein) "They Say/I Say": The Moves that Matter in Academic Writing.