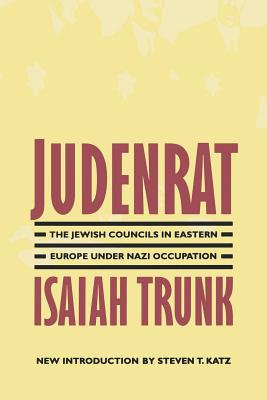 Judenrat
The Jewish Councils in Eastern Europe under Nazi Occupation
Paperback

* Individual store prices may vary.
Description
During World War II, more than five million Jews lived under Nazi rule in Eastern Europe. In occupied Poland, the Baltic countries, Byelorussia, and Ukraine, they were stripped of property and "resettled" in ghettos. The German authorities established in each ghetto a Jewish Council, or Judenrat, to maintain minimal living standards. The Judenrat was required to carry out Nazi directives against other Jews, to supply forced labor, and eventually to cooperate in the Final Solution.
Did the Jewish leaders of the ghettos, who were also victims, assist their murderers? If cooperation with the Nazi oppressors was morally defensible during the first stage in organizing the ghettos, what about later, when deportations to death camps began? Trunk analyzes situations where the Councils and ghetto police were forced to send their own communities to death. Some Council members chose suicide rather than supply lists to the Nazis; others used delaying tactics. Some handed over the lists. Some joined their families in the gas chamber. In assessing guilt and innocence, Trunk never allows the reader to forget that the impossible choices facing the Jewish leaders were created by the Nazis.
Praise For Judenrat: The Jewish Councils in Eastern Europe under Nazi Occupation…
"Judenrat confirms one conclusion: the Nazis created a hell on earth where the best could falter and the worst could show a flash of decency. Suddenly, one realizes what happens to people in a world of absolute evil. Mr. Trunk again teaches us that we must distinguish between victims and criminals, as well as between criminal victims and criminals. The greatest virtue of this important book based upon half a decade of research and sound scholarship is that it is not an objective study. Objectivity would be indecent here."—[London] Times Literary Supplement
— Times Literary Supplement
"This is the first full-length account of the Judenrat. . . . [It is] an exhaustive study of a complex subject, and Trunk's closely documented descriptions of the ghettos and how the Judenrat held them together are stark and unforgettable."—Library Journal
— Library Journal
University of Nebraska Press, 9780803294288, 663pp.
Publication Date: April 1, 1996
About the Author
The works of Isaiah Trunk, a historian of Polish Jewry, include Jewish Responses to Nazi Persecution. Steven T. Katz is a professor of Jewish history at Cornell University. He is the author of the three-volume work, The Holocaust in Historical Context.