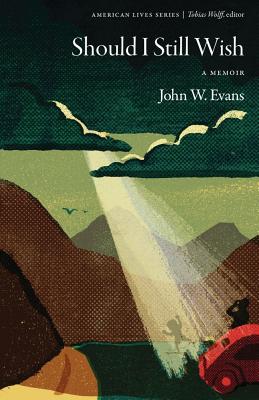 Should I Still Wish (Paperback)
A Memoir (American Lives )
University of Nebraska Press, 9780803295223, 156pp.
Publication Date: January 1, 2017
* Individual store prices may vary.
Description
In this candid and moving memoir, John W. Evans articulates the complicated joys of falling in love again as a young widower. Though heartbroken after his wife's violent death, Evans realizes that he cannot remain inconsolable and adrift, living with his in-laws in Indiana. Motivated by a small red X on a map, Evans musters the courage for a cross-country trip. From the Badlands to Yellowstone to the foothills of the Sierra Mountains, Evans's hope and determination propel him even as he contemplates his vulnerability and the legacy of a terrible tragedy.

Should I Still Wish chronicles Evans's efforts to leave an intense year of grief behind, to make peace with the natural world again, and to reconnect with a woman who promises, like San Francisco itself, a life of abundance and charm. With unflinching honesty Evans plumbs the uncertainties, doubts, and contradictions of a paradoxical experience in this love story, celebration of fatherhood, meditation on the afterlife of grief and resilience, and, ultimately, showcase for life's many profound incongruities.


 
About the Author
John W. Evans is a Jones Lecturer in creative writing at Stanford University. He is the author of Young Widower: A Memoir (Nebraska, 2014), winner of the River Teeth Literary Nonfiction Prize; The Consolations, winner of the 2015 Peace Corps Writers Best Poetry Book; and two poetry chapbooks.
 
Praise For Should I Still Wish: A Memoir (American Lives )…
"Poignant. . . . [Should I Still Wish] offers candid insight into the baffling interplay of love, loss, and the balm of memory."—Kirkus
— Kirkus
"A poignant meditation."—Georgia Rowe, Mercury News
— Georgia Rowe
"Very moving."—Terri Schlichenmeyer, Wisconsin Daily Citizen
— Terri Schlichenmeyer
"Beautifully observed and unstintingly honest, Should I Still Wish tries to make sense of a world rendered senseless by tragedy. Its real brilliance, though, is in its interweaving of sorrow and joy, its examination of what it means to simultaneously mourn an old life and celebrate a new one."—Katharine Noel, author of Halfway House
 
— Katharine Noel
"Should I Still Wish is a profoundly moving memoir of love's recovery. . . . The brilliance of this insightful book is in its honest articulation of great paradox—love can rise complete and uncompromised even as grief endures, and the human heart can belong simultaneously to both life and death, neither of which triumphs forever."—Jonathan Johnson, author of Hannah and the Mountain: Notes toward a Wilderness Fatherhood
 
— Jonathan Johnson