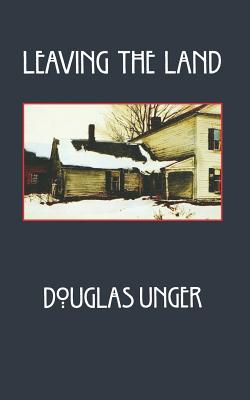 Leaving the Land (Paperback)
University of Nebraska Press, 9780803295605, 277pp.
Publication Date: August 1, 1995
* Individual store prices may vary.
Description
The reputation of Leaving the Land has grown steadily since its first publication in 1984. It was a finalist for the Pulitzer Prize and the Robert F. Kennedy Award and was an ALA Notable book in 1984.
About the Author
Douglas Unger, a professor of English at the University of Nevada, Las Vegas, is also the author of El Yanqui and The Turkey War, and, most recently, Voices from Silence: A Novel of Repression and Terror in Argentina.
Praise For Leaving the Land…
"This fine first novel courts comparison with Willa Cather's . . . O Pioneers! But there is a big difference, since O Pioneers! . . . is about beginnings, while Leaving the Land is, sadly and disturbingly, about endings. It shows family farming giving way to corporate farming and agribusiness. . . . Marge [Hogan] has character, which is probably not inheritable. It is a rare commodity in modern novels."—New York Times Book Review
— New York Times Book Review
"Nothing can now reverse the decline of the way of life Unger describes, but his beautiful and haunting book is at least a worthy monument to it."—[London] Times Literary Supplement
— [London] Times Literary Supplement
"Douglas Unger's first novel is one of [the] year's best. . . . He's made a powerful debut."—Newsweek
— Newsweek
"An unusually mature first novel, as unsentimental as its unlucky heroine, but filled with a sly affection for unwitting victims."—New Yorker
— New Yorker
"Leaving the Land will win prizes. Or ought to. It is loving and tough and so honest it makes your teeth rattle. . . . An outstanding book about who we are."—Boston Globe
— Boston Globe
"A vivid and memorable portrait of a small South Dakota farming community whose colorful folk traditions and way of life are destroyed by corporate agribusiness. The power of the book rests on it realistic characters. . . . Unger's language is spare and clean—his prose often as stark as the land he describes."—San Francisco Examiner-Chronicle
— San Francisco Examiner-Chronicle
"An affecting, grittily realistic tale that moves to the steady, compelling rhythm of the changing seasons."—Publishers Weekly
— Publishers Weekly