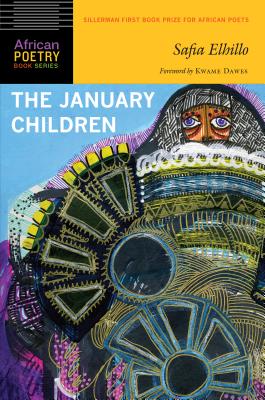 The January Children (African Poetry Book )
Paperback

* Individual store prices may vary.
Description
In her dedication Safia Elhillo writes, "The January Children are the generation born in Sudan under British occupation, where children were assigned birth years by height, all given the birth date January 1." What follows is a deeply personal collection of poems that describe the experience of navigating the postcolonial world as a stranger in one's own land.

The January Children depicts displacement and longing while also questioning accepted truths about geography, history, nationhood, and home. The poems mythologize family histories until they break open, using them to explore aspects of Sudan's history of colonial occupation, dictatorship, and diaspora. Several of the poems speak to the late Egyptian singer Abdelhalim Hafez, who addressed many of his songs to the asmarani—an Arabic term of endearment for a brown-skinned or dark-skinned person. Elhillo explores Arabness and Africanness and the tensions generated by a hyphenated identity in those two worlds.

No longer content to accept manmade borders, Elhillo navigates a new and reimagined world. Maintaining a sense of wonder in multiple landscapes and mindscapes of perpetually shifting values, she leads the reader through a postcolonial narrative that is equally terrifying and tender, melancholy and defiant. 
Praise For The January Children (African Poetry Book )…
"A taut debut collection of heartfelt poems."—Publishers Weekly

"Safia Elhillo's triumph is not that she sings about novel love and heartbreak, but that she does so in an unforgettable voice."—Irene Mathieu, Muzzle

"Safia Elhillo's The January Children offers the reader a galaxy of Sudanese voices engaging individual and collective memory in a manner that not only introduces readers to the nuances that animate that ancient land of layered diversity, which lends this collection a collage-like quality that is as sublime in its coherence as it is revelatory in its execution."—Post No Ills Magazine

"The first sound of what will be a remarkable noise in African poetry. Safia Elhillo has already laid out in this collection a complex foundation for a rich and complex body of work. What is unmistakable is her authority as a poet—she writes with great control and economy, but also with a vulnerability that is deeply engaging. Above all, her poems are filled with delight—a quality of humor that is never trite but always honest and insightful."—from the foreword by Kwame Dawes
University of Nebraska Press, 9780803295988, 90pp.
Publication Date: March 1, 2017
About the Author
Safia Elhillo is a Cave Canem fellow and poetry editor at Kinfolks Quarterly. Her work has appeared in several journals and anthologies including The BreakBeat Poets: New American Poetry in the Age of Hip-Hop. She is the author of The Life and Times of Susie Knuckles.