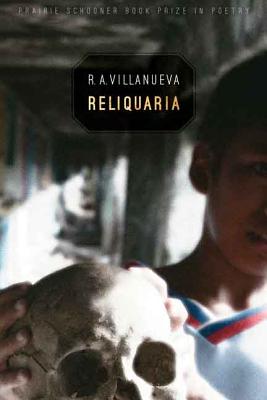 Reliquaria (Prairie Schooner Book Prize in Poetry) (Paperback)
University of Nebraska Press, 9780803296381, 82pp.
Publication Date: September 1, 2014
* Individual store prices may vary.
Description
In his prize-winning poetry collection Reliquaria, R. A. Villanueva embraces liminal, in-between spaces in considering an ever-evolving Filipino American identity. Languages and cultures collide; mythologies and faiths echo and resound. Part haunting, part prayer, part prophecy, these poems resonate with the voices of the dead and those who remember them. In this remarkable book, we enter the vessel of memory, the vessel of the body. The dead act as witness, the living as chimera, and we learn that whatever the state of the body, this much rings true: every ode is an elegy; each elegy is always an ode.

About the Author
R. A. Villanueva was born in New Jersey and lives in Brooklyn. His honors include the 2013 Ninth Letter Literary Award for poetry and fellowships from Kundiman and the Asian American Literary Review. His writing has appeared in Virginia Quarterly Review, AGNI, Bellevue Literary Review, and elsewhere. A founding editor of Tongue: A Journal of Writing & Art, he teaches at New York University.

Praise For Reliquaria (Prairie Schooner Book Prize in Poetry)…
"The texture of R. A. Villanueva's words stay in the mouth, shards of what is sacred, still is sacred: linguistic memento mori, if you will, that preserve and keep alive. Take your time with this glorious collection. Breathe in: 'black eggs,' 'pomade,' 'concertina wire,' 'wreathed in gauze,' and 'Nakalimutan mo na ako. You have already forgotten me.' I dare say you will not forget these remains that Villanueva has saved for us."—Kimiko Hahn, author of Toxic Flora 
— Kimiko Hahn
"These vivid and deeply lived poems question 'every delicate gift we have thrown away.' Villanueva searches the world for the divine and—gorgeous poem by poem—he finds it."—Idra Novey, author of Exit, Civilian
— Idra Novey
"R. A. Villanueva reminds us that poetry is a space haunted by history, so we try 'to name ghosts, to face them, dark as they are.' He musters an impressive courage to take up the task. And we're rewarded not just by Villanueva's immense thrill for language but by his ability to fuse the body's fact with the body's mystery. This is a terrific debut."—Patrick Rosal, author of Boneshepherds

— Patrick Rosal
"Reliquaria convokes a public hymn that genuflects in the presence of the world's lucent crumbs and fragments. Villanueva's elegant argument with, within, and beyond Roman Catholicism infuses this collection with a classical urgency."—G. C. Waldrep, author of Archicembalo
— G. C. Waldrep
"In precise yet lush language, these poems move so easily between the sacred and the quotidian, between past and present, and from lyric longing to physical satisfaction that it is startling to realize how much ground each poem covers, and how natural these transitions, at heart, truly are. . . . Reading his poems, I am delighted by the clarity and sinuousness of [Villanueva's] writing, by the force of his belief that the materiality of the world shares something with the beauty of words."—Paisley Rekdal, author of Animal Eye
— Paisley Rekdal
"Villanueva's poetry is unabashedly sinewy, and uncannily, the more sinewy, the more soulful. Indeed, somehow he seems to straddle the divide between the visceral and the ethereal, and up there, where the air is crisp and clean and bracing, he is sovereign. So, no need any longer to go asking what's the matter, for the poems in this volume, quite simply, are."—Lawrence Weschler, author of Mr. Wilson's Cabinet of Wonder 
— Lawrence Weschler