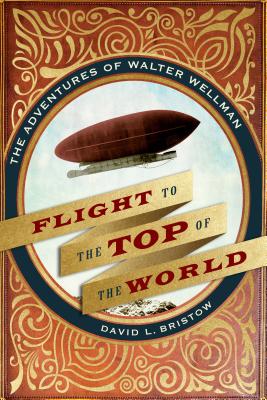 Flight to the Top of the World (Hardcover)
The Adventures of Walter Wellman
University of Nebraska Press, 9780803296787, 392pp.
Publication Date: July 1, 2018
* Individual store prices may vary.
Description
In his day Walter Wellman (1858–1934) was one of America's most famous men. To his contemporaries, he seemed like a character from a Jules Verne novel. He led five expeditions in search of the North Pole, two by dogsled and three by dirigible airship, and in 1910 made the first attempt to cross the Atlantic Ocean by air—which the self-styled expert on aerial warfare saw as a mission of world peace. He endured hardships, cheated death on more than one occasion, and surrounded himself with a team of assistants as eccentric and audacious as he was.

In addition to his daring adventures, Wellman became a nationally known political reporter and unofficial spokesman for the McKinley and Roosevelt administrations. He was not the first newspaper-sponsored adventurer, but more than any of his predecessors he turned exploration into a real-time media event, and his reputation both flourished and suffered because of it. Wellman lived during a time of rapid social and technological change, when explorers were racing to fill in the last remaining blank spots on the map and when aviation promised to fulfill humanity's greatest hopes and darkest fears. Flight to the Top of the World is a window into Wellman's time and illuminates many of its dreams and contradictions.
 
About the Author
David L. Bristow is an associate director at the Nebraska State Historical Society, where he serves as the journal editor of Nebraska History and book editor for the society's scholarly and popular books. He is the author of Sky Sailors: True Stories of the Balloon Era and A Dirty, Wicked Town: Tales of Nineteenth Century Omaha.
Praise For Flight to the Top of the World: The Adventures of Walter Wellman…
"Walter Wellman deserves to be known. He led five expeditions seeking the North Pole. He was the first to try to cross the Atlantic Ocean by air. He was a widely read national affairs reporter in Washington, D.C., and a confidant to presidents. When he did these things—in the late nineteenth and early twentieth centuries—he was known, famous even. But today his name and his exploits have been lost to history.
David L. Bristow, in Flight to the Top of the World, sets out to bring Wellman back to public awareness."—Timothy Anderson, Nebraska History
— Timothy Anderson
"Walter Wellman is a name virtually unknown to most readers. Yet, he was one of our country's most famous individuals during the late 19th and early 20th centuries, recognized as both a journalist and an adventurer. . . . Bristow portrays him as one of the first "instant celebrities" now embraced by our present culture. Indeed, had he been born a century later, he would have undoubtedly starred in his own reality show. . . . Readers should appreciate Bristow's reintroduction of this colorful reminder of America's past."—J. Kemper Campbell, Lincoln Journal Star
— J. Kemper Campbell
"With its plethora of flying machines, newfangled radios, grubby mechanics, media frenzies, its Arctic backdrop, and more, this would be a great steampunk novel were it not entirely factual."—David James, Anchorage Daily News
— David James
"David Bristow does an admirable job of setting Walter Wellman's story in the broader context of both American history and the history of polar exploration. This is an important addition not only to Wellman's biography but to the history and impact of American journalism in the early years of the twentieth century."—Tom D. Crouch, senior curator of aeronautics at the National Air and Space Museum and author of The Bishop's Boys
 
— Tom D. Crouch