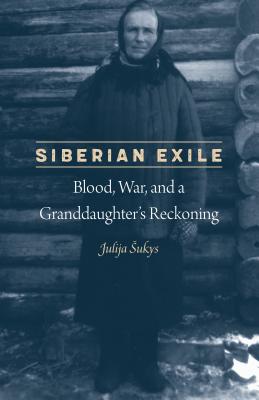 Siberian Exile
Blood, War, and a Granddaughter's Reckoning
Hardcover

* Individual store prices may vary.
Other Editions of This Title:
Paperback (12/1/2019)
Description
2018 AABS Book Prize Winner
2018 Vine Award for Canadian Jewish Literature in Nonfiction 
When Julija Šukys was a child, her paternal grandfather, Anthony, rarely smiled, and her grandmother, Ona, spoke only in her native Lithuanian. But they still taught Šukys her family's story: that of a proud people forced from their homeland when the soldiers came. In mid-June 1941, three Red Army soldiers arrested Ona, forced her onto a cattle car, and sent her east to Siberia, where she spent seventeen years separated from her children and husband, working on a collective farm. The family story maintained that it was all a mistake. Anthony, whose name was on Stalin's list of enemies of the people, was accused of being a known and decorated anti-Bolshevik and Lithuanian nationalist.

Some seventy years after these events, Šukys sat down to write about her grandparents and their survival of a twenty-five-year forced separation and subsequent reunion. Piecing the story together from letters, oral histories, audio recordings, and KGB documents, her research soon revealed a Holocaust-era secret—a family connection to the killing of seven hundred Jews in a small Lithuanian border town. According to KGB documents, the man in charge when those massacres took place was Anthony, Ona's husband.

In Siberian Exile Šukys weaves together the two narratives: the story of Ona, noble exile and innocent victim, and that of Anthony, accused war criminal. She examines the stories that communities tell themselves and considers what happens when the stories we've been told all our lives suddenly and irrevocably change, and how forgiveness or grace operate across generations and across the barriers of life and death. 
 
Praise For Siberian Exile: Blood, War, and a Granddaughter's Reckoning…
"Julija Šukys' Siberian Exile: Blood, War, and a Granddaughter's Reckoning . . . is a book both about storytelling and about the inability, sometimes, to tell stories. Šukys attempts, in this book, to reconstruct the lives of her Lithuanian grandfather and grandmother, but in so doing, she discovers family and political secrets that unsettle the project and her relationship to her past, to the past of her family, and to the act of narrating history itself."—Vivian Wagner, Brevity

"[Siberian Exile] is the wonderfully written, emotional, and real account of discovery and family secrets."—Curtis Woodcock, Phoenix

"Julija Šukys reads between the lines of historical and personal documents to tell the tale of grandparents separated by deportation during the middle of the last century. . . . Because silence fills the plot holes in family stories and swallows wide swathes of history, stories such as Siberian Exile become all that more important."—Kerry Kubilius, Vilnius Review

"Siberian Exile is a reminder—and we do indeed need reminding—that as Americans we have not experienced a foreign presence on our shores for more than two hundred and forty years, never to the extreme as Lithuania and many other European countries have."—Richard Goodman, River Teeth

"Interweaving coincidences and reversals with historical precision in a narrative that layers, folds, zags and spikes, Julija Šukys wanders the ghost-filled streets of the present, mingling with kin, real and imagined, and corresponding with multiple unspeakable pasts. I can't recall the last time I read so gripping and so delicate a documentary of atrocity, complicity, dispossession, and survival. Siberian Exile is remarkable, daunting, and disarmingly real."—Mary Cappello, author of Life Breaks In: A Mood Almanack
 

"Riveting. . . . Beyond the historical and familial narrative, Julija Šukys ponders her own exile and her own complicity, allowing readers to do the same, comparing versions of selves and asking which version is truest, an impossible question, but one readers will find as enthralling as these pages."—Patrick Madden, author of Sublime Physick and Quotidiana

"All families harbor secrets. What if, in blithe innocence, you set out to research your family history, only to discover that your grandfather was guilty of the most heinous of crimes? Šukys pursues her tragic family memoir with courage and self-examination, often propelled to her painful discoveries by what she believes is a bizarre synchronicity. This is not a book written at a safe distance."—Rosemary Sullivan, author of Stalin's Daughter: The Extraordinary and Tumultuous Life of Svetlana Alliluyeva
 
University of Nebraska Press, 9780803299597, 200pp.
Publication Date: October 1, 2017
About the Author
Julija Šukys is an associate professor of creative nonfiction at the University of Missouri, Columbia. She is the author of Epistolophilia: Writing the Life of Ona Šimaitė (Nebraska, 2012) and Silence Is Death: The Life and Work of Tahar Djaout (Nebraska, 2007).