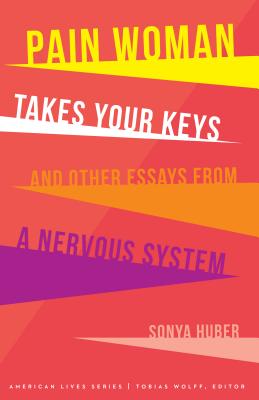 Pain Woman Takes Your Keys, and Other Essays from a Nervous System (American Lives )
Paperback

* Individual store prices may vary.
Description
Rate your pain on a scale of one to ten. What about on a scale of spicy to citrus? Is it more like a lava lamp or a mosaic? Pain, though a universal element of human experience, is dimly understood and sometimes barely managed. Pain Woman Takes Your Keys, and Other Essays from a Nervous System is a collection of literary and experimental essays about living with chronic pain. Sonya Huber moves away from a linear narrative to step through the doorway into pain itself, into that strange, unbounded reality. Although the essays are personal in nature, this collection is not a record of the author's specific condition but an exploration that transcends pain's airless and constraining world and focuses on its edges from wild and widely ranging angles.

Huber addresses the nature and experience of invisible disability, including the challenges of gender bias in our health care system, the search for effective treatment options, and the difficulty of articulating chronic pain. She makes pain a lens of inquiry and lyricism, finds its humor and complexity, describes its irascible character, and explores its temperature, taste, and even its beauty.
 
Praise For Pain Woman Takes Your Keys, and Other Essays from a Nervous System (American Lives )…
"If this isn't the book that we in the pain community need in 2017, I don't know what is."—Matt Mendenhall, Pain-Free Living Magazine
"The theorist Elaine Scarry, in her magnum opus
The Body in Pain
, writes, 'The utter rigidity of pain itself is that its resistance to language is not simply one of its incidental or accidental tributes but is essential to what it is.' One can see Sonya Huber's
Pain Woman Takes Your Keys, and Other Essays from a Nervous System
as a glorious refusal of what Scarry puts forth. With ardor and valor, Huber renders the lived experience of chronic pain and all that attends it in a language all her own, written—as she so wonderfully phrases it—using 'pain's alphabet.' These essays make imprecision their enemy as they comfort the afflicted and afflict the comfortable.
Pain Woman
further establishes Sonya Huber as one of the most exciting voices writing creative nonfiction today." —Vincent Scarpa,
Electric Literature 
"Sonya Huber has restored my faith in chronic illness narratives. . . . Now, if I have my way, this book will sneak its way into the lives of many future readers, regardless of their personal experience with chronic illness."—Taylor Wilke,
Rumpus
"Sonya Huber works magic by articulating the indescribable. With her lyrically written and witty account, she better describes her own pain experience than a patient rating scale of 1 to 10 ever could."—Paula Kamen, author of
All in My Head
"This is an important book, a necessary book, a book that, in the right hands, could change how our medical establishment deals with pain. These essays are at once vulnerable and fierce, funny and smart, unflinching and dappled with stunning metaphor."—Gayle Brandeis, author of
Fruitflesh
"Huber has captured what it is to be a woman who lives with chronic pain in all its nuanced complexity."—Sarah Einstein, author of
Mot: A Memoir
University of Nebraska Press, 9780803299917, 204pp.
Publication Date: March 1, 2017
About the Author
Sonya Huber is an associate professor of English at Fairfield University. She is the author of Opa Nobody (Nebraska, 2008), Cover Me: A Health Insurance Memoir (Nebraska, 2010), and The Evolution of Hillary Rodham Clinton.