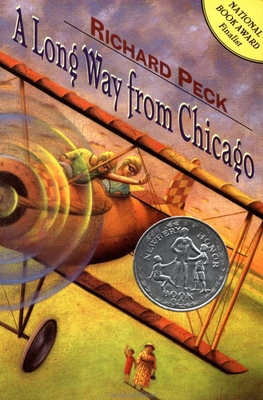 A Long Way from Chicago: A Novel in Stories (Hardcover)
A Novel in Stories
Dial Books, 9780803722903, 148pp.
Publication Date: September 1, 1998
Description
This Newbery Honor Winner and National Book Award Finalist is an unforgettable modern classic and features the debut of the larger-than-life Grandma Dowdel What happens when Joey and his sister, Mary Alice--two city slickers from Chicago--make their annual summer visits to Grandma Dowdel's seemingly sleepy Illinois town?
August 1929: They see their first corpse, and he isn't resting easy.
August 1930: The Cowgill boys terrorize the town, and Grandma fights back.
August 1931: Joey and Mary Alice help Grandma trespass, poach, catch the sheriff in his underwear, and feed the hungry--all in one day. And there's more, as Joey and Mary Alice make seven summer trips to Grandma's--each one funnier than the year before--in self-contained chapters that readers can enjoy as short stories or take together for a rip-roaringly good novel. In the tradition of American humorists from Mark Twain to Flannery O'Connor, popular author Richard Peck has created a memorable world filled with characters who, like Grandma herself, are larger than life and twice as entertaining. Newbery Honor Winner
National Book Award Finalist
ALA Best Book for Young Adults
ALA Notable Book
New York Times Best Seller "A rollicking celebration of an eccentric grandmother and childhood memories."--School Library Journal (starred review) "A novel that skillfully captures the nuances of small-town life ...] Remarkable and fine."--Kirkus (starred review) "Fresh, warm and anything but ordinary."--Publishers Weekly
About the Author
Richard Peck has written more than thirty novels, and in the process has become one of the country's most highly respected writers for children. In fact The Washington Post called him "America's best living author for young adults." A versatile writer, he is beloved by middle-graders as well as young adults for his historical and contemporary comedies and coming-of-age novels. He lives in New York City, and spends a great deal of time traveling around the country to speaking engagements at conferences, schools, and libraries. Mr. Peck is the first children's book author to have received a National Humanities Medal. He is a Newbery Medal winner (for A Year Down Yonder), a Newbery Honor winner (for A Long Way from Chicago), a two-time National Book Award finalist, and a two-time Edgar Award winner. In addition, he has won a number of major honors for the body of his work, including the Margaret A. Edwards Award, the ALAN Award, and the Medallion from the University of Southern Mississippi.
Advertisement