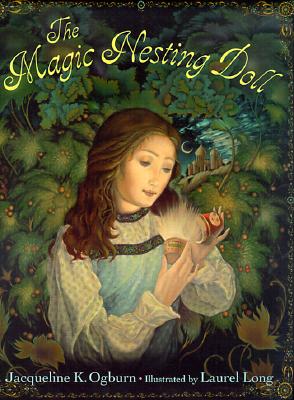 The Magic Nesting Doll (Hardcover)
Dial Books, 9780803724143, 32pp.
Publication Date: September 1, 2000
* Individual store prices may vary.
or
Not Currently Available for Direct Purchase
Description
Katya's grandmother took a little matryoshka, a nesting doll, out of a small box. "If your need is great, open the doll and help will come. But you may only do so three times. After that the magic will be gone." A wicked spell has changed a handsome young prince to a pale glassy figure made of "living ice," and his kingdom to a frozen landscape of night without moon, darkness without dawn. Katya knows that it's up to her to rescue the prince and undo the evil spell that has banished the sun. Armed with only the magic nesting doll and her own valiant heart, she is determined to succeed. But will the combined effort of her courage and the mysterious nesting doll be strong enough to prevail? Laurel Long's radiant paintings and Jacqueline K. Ogburn's enchanting original tale were inspired by Russian folk art and stories. This talented duo has created a modern classic that honors its folklore heritage while depicting a world in which a girl can be anything, including a hero.
About the Author
Writer Jacqueline K. Ogburn recently received her 15-minutes of fame when Daniel Pinkwater read the text of her most recent book, The Bake Shop Ghost, on the Weekend Edition - Saturday program on National Public Radio. "Delicious" said Daniel Pinkwater. "It's a yummy book." Because of the broadcast, Ms. Ogburn was contacted by composer Jonathan Schwabe about turning the story into a musical. The two collaborated on the project and the play premiered at the Maud Powell Music Festival in June 2007. The book was also made into an independent short film by Lorette Bayle and is being shown at film festivals, both nationally and internationally. The Bake Shop Ghost film stars Kathryn Joosten as the ghost of Cora Lee Merriweather and Mary Anne Jeanne Baptiste as Ann Washington. It premiered at the Seattle Film Festival in May 2009. A North Carolina native, Ms. Ogburn received a bachelor's degrees in English and Philosophy at the University of North Carolina at Charlotte. For ten years, she worked in New York book publishing, primarily as a children's book editor. She is the author of eight picture books. Her previous book, The Magic Nesting Doll, received a starred review from "Publishers' Weekly" and has been translated into Greek and Korean. In addition to her writing, Ms. Ogburn worked as a speech writer and public affairs specialist for the NC Department of Cultural Resources and was president of a small non-profit press. She has also taught writing at several venues, including the Friday Center at UNC-Chapel Hill. She currently works for the Sanford School of Public Policy at Duke University in the Communications Office. The Bake Shop Ghost combines her passion for stories and dessert. Her family's favorite recipe for birthday cake is the one included in the book. Ms. Ogburn, her husband and two daughters live in North Carolina, in an 85-year-old bungalow with too many books and a deaf cat. Her website is at www.wincbooks.com."
Advertisement