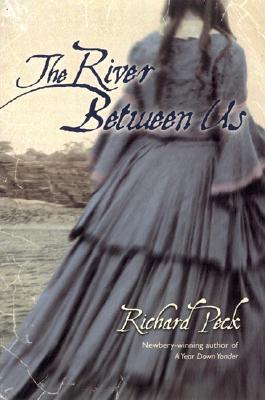 The River Between Us (Hardcover)
Dial, 9780803727359, 176pp.
Publication Date: September 29, 2003
Other Editions of This Title:
Paperback (6/21/2005)
Prebound (6/21/2005)
Compact Disc (12/13/2005)
* Individual store prices may vary.
Description
Richard Peck is a master of stories about people in transition, but perhaps never before has he told a tale of such dramatic change as this one, set during the first year of the Civil War. The whole country is changing in 1861-even the folks from a muddy little Illinois settlement on the banks of the Mississippi. Here, fifteen-year-old Tilly Pruitt frets over the fact that her brother is dreaming of being a soldier and that her sister is prone to supernatural visions. A boy named Curry could possibly become a distraction.

Then a steamboat whistle splits the air. The Rob Roy from New Orleans docks at the landing, and off the boat step two remarkable figures: a vibrant, commanding young lady in a rustling hoop skirt and a darker, silent woman in a plain cloak, with a bandanna wrapped around her head. Who are these two fascinating strangers? And is the darker woman a slave, standing now on the free soil of Illinois? When Tilly's mother invites the women to board at her house, the whole world shifts for the Pruitts and for their visitors as well.

Within a page-turning tale of mystery, adventure, and the civilian Civil War experience, Richard Peck has spun a breathtaking portrait of the lifelong impact that one person can have on another. This is a novel of countless riches.
About the Author
Richard Peck has written more than thirty novels, and in the process has become one of the country's most highly respected writers for children. In fact "The Washington Post" called him "America's best living author for young adults." A versatile writer, he is beloved by middle-graders as well as young adults for his historical and contemporary comedies and coming-of-age novels. He lives in New York City, and spends a great deal of time traveling around the country to speaking engagements at conferences, schools, and libraries.

Mr. Peck is the first children's book author to have received a National Humanities Medal. He is a Newbery Medal winner (for "A Year Down Yonder"), a Newbery Honor winner (for "A Long Way from Chicago"), a two-time National Book Award finalist, and a two-time Edgar Award winner. In addition, he has won a number of major honors for the body of his work, including the Margaret A. Edwards Award, the ALAN Award, and the Medallion from the University of Southern Mississippi.
or
Not Currently Available for Direct Purchase