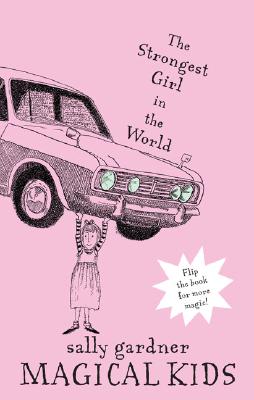 Magical Kids (Hardcover)
The Invisible Boy and the Strongest Girl in the World
Dial Books, 9780803731585, 224pp.
Publication Date: March 1, 2007
* Individual store prices may vary.
Description
Josie Jenkins, aged eight and three-quarters, is good at tricks. She can balance a pencil on the end of her finger and pick her nose without anyone seeing. But she amazes everyoneeven herselfwith her best trick yet: Josie can lift a table, a car, and even a bus with no effort at all Hold on, though. Could this would-be blessing turn out to be an even greater curse?
Then there's Sampoor Sam When his parents take off for a trip to the moon, Sam is imprisoned by the wicked Hilda Hardbottom. He must find a way to escape, but how? Could his salvation come in the form of a small, splotchy alien? Maybeif that alien has the power of invisibility, and the inclination to share
In these two delightfully silly stories of extreme magic, enticingly packaged in a flip-book format, resourceful kids rely on their sense and savvy to save the day.

About the Author
Sally Gardner grew up and still lives in London. Being dyslexic, she did not learn to read or write until she was fourteen and had been thrown out of several schools, labeled unteachable, and sent to a school for maladjusted children. Despite this, she gained a degree with highest honors at a leading London art college, followed by a scholarship to a theater school, and then went on to become a very successful costume designer, working on some notable productions. After the births of twin daughters and a son, she started first to illustrate and then to write picture books and chapter books, usually with fairytale- or otherwise magical subject matter. She has been called an idiosyncratic genius by London s Sunday Times. I, Coriander is her first book for older readers, and she is currently working on a second."
or
Not Currently Available for Direct Purchase