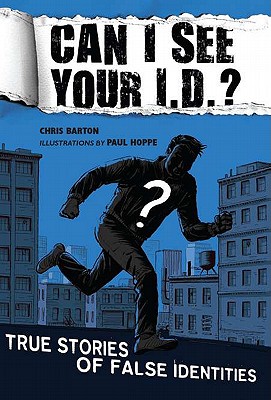 Can I See Your I.D.?
True Stories of False Identities
Hardcover

* Individual store prices may vary.
Description
True crime, desperation, fraud, and adventure: From the impoverished young woman who enchanted nineteenth-century British society as a faux Asian princess, to the sixteen-year-old boy who "stole" a subway train in 1993, to the lonely but clever Frank Abagnale of Catch Me if You Can fame, these ten vignettes offer riveting insight into mind-blowing masquerades. Graphic panels draw you into the exploits of these pretenders, and meticulously researched details keep you on the edge of your seat. Each scene is presented in the second person, a unique point of view that literally places you inside the faker's mind. With motivations that include survival, delusion, and plain, old-fashioned greed, the psychology of deception has never been so fascinating or so close at hand.
Dial Books, 9780803733107, 144pp.
Publication Date: April 14, 2011
About the Author
Paul Hoppe and Henry Johnson are the real life Travis and Freddy, all grown up.They have made and lost a million dollars on Wall Street. They have played in the Little League World Series, extreme-skied the Rockies and the Alps, played a ham sandwich on HBO, and visited three of the seven Wonders of the World.Paul lives in Massachusetts and Henry lives in California.
or
Not Currently Available for Direct Purchase