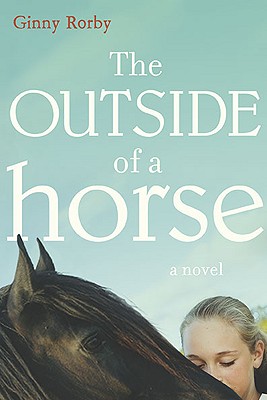 The Outside of a Horse (Hardcover)
Dial Books for Young Readers, 9780803734784, 343pp.
Publication Date: May 13, 2010
* Individual store prices may vary.
or
Not Currently Available for Direct Purchase
Description
Hannah Gale starts volunteering at a horse stable because she needs a place to escape. Her father has returned from the Iraq war as an amputee with posttraumatic stress disorder, and his nightmares rock the household. At the stable, Hannah comes to love Jack, Super Dee, and Indy; helps bring a rescued mare back from the brink; and witnesses the birth of the filly who steals her heart. Hannah learns more than she ever imagined about horse training, abuse, and rescues, as well as her own capacity for hope. Physical therapy with horses could be the answer to her fatherOs prayers, if only she can get him to try.
About the Author
Ginny Rorby was born in Washington, D.C., but spent her first twenty years in Winter Park, Florida. She now lives close to nature, on the northern coast of California, supporting the appetites of five cats (the fourth and fifth appropriately named Spare Cat and Extra Cat), three birds, and a snake named Rosie. Because she does some wildlife rehabilitation, she frequently has an assortment of critters staying with her (past residents have included a bat, a hummingbird, a raven, a turkey, and numerous baby birds).

She writes by hand under a plum tree on a deck overlooking a creek, facing a redwood forest (with at least one cat in her lap). She had been working as a flight attendant for fifteen years when wrote an editorial about an abandoned dog and sent it to a local newspaper. An editor at the newspaper encouraged her to continue writing. Ginny has since received her MFA in creative writing. She was still flying when she wrote Dolphin Sky, so most of it was written while she was standing up in the lower galley of a DC-10 airplane.
Advertisement