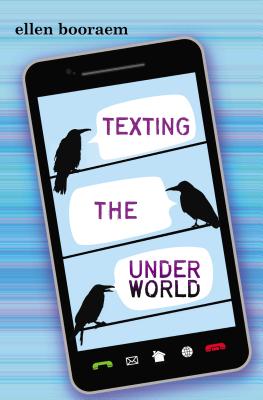 Texting the Underworld (Hardcover)
Dial Books, 9780803737044, 320pp.
Publication Date: August 15, 2013
* Individual store prices may vary.
Description
Perpetual scaredy-cat Conor O'Neill has the fright of his life when a banshee girl named Ashling shows up in his bedroom. Ashling is--as all banshees are--a harbinger of death, but she's new at this banshee business, and first she insists on going to middle school. As Conor attempts to hide her identity from his teachers, he realizes he's going to have to pay a visit to the underworld if he wants to keep his family safe.

"Got your cell?"
"Yeah . . . . Don't see what good it'll do me."
"I'll text you if anything happens that you should know."
"Text me? Javier, we'll be in the afterlife."
"You never know. Maybe they get a signal."

Discover why Kirkus has called Booraem's work "utterly original American fantasy . . . frequently hysterical." This totally fresh take on the afterlife combines the kid next door appeal of Percy Jackson with the snark of Artemis Fowl and the heart of a true middle grade classic.
About the Author
Ellen Booraem, a native of Massachusetts, now lives in Downeast Maine. She is the author of The Unnameables (an ALA Best Book for Young Adults), Small Persons With Wings, and Texting the Underworld. All of Ellen's books have, among other awards, been picked as Best Books of the Year by Kirkus Reviews. In addition to being a writer, Ellen is also a mentor and a writing coach. She lives with a cat, a dog, and an artist in a house they (meaning the humans) built with their own hands.
Praise For Texting the Underworld…
"Readers will emerge from this adventure a little bit better equipped for heroism." — Kirkus Reviews, starred review

"Complex characters, a moving story line centered on family and courage, and plenty of exciting moments make this an appealing read for those fans of tales mixing traditional folklore with contemporary life." — Horn Book

"A story that packs an emotional wallop...affecting, funny, and provocative." — Publishers Weekly

"Booraem manages to pack a lot of energy into this very modern story about ancient traditions surrounding death. . .Readers will relish the quirky cast of supporting characters from the underworld. . ." — Booklist

"This book will be a favorite of young fantasy readers." — Library Media Connection