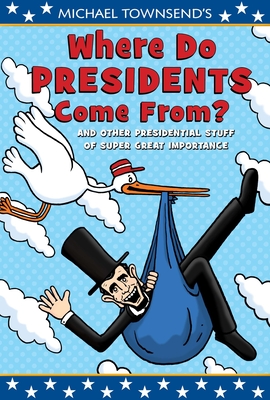 Where Do Presidents Come From?
And Other Presidential Stuff of Super Great Importance
Hardcover

* Individual store prices may vary.
Description
So You Want to Be President meets The Far Side!

Just in time for the 2012 election, Michael Townsend presents his comic book guide to everything you ever wanted to know (and maybe a few things you didn't!) about the President of the United States. It's full of insanely weird facts about our leaders (Did you know that President Coolidge had a pet pygmy hippo named Billy?), as well as the history and powers of the presidency, day-to-day life, and pros and cons of the job. Even the most mundane of facts become hilarious in this brilliantly cheeky guide to our nation's MVP.
Praise For Where Do Presidents Come From?: And Other Presidential Stuff of Super Great Importance…
?"Townsend's last effort, Amazing Greek Myths of Wonder and Blunders (2010), with its authentic depictions of mythic themes and lessons buried beneath the cartoonist's zany shenanigans, was a fine indicator of the direction he was heading. This volume, however, is a quantum leap forward in balancing solid, comprehensive facts on a large scale with consistent hilarity. It's hard enough to cover the American presidency—from its origins in the Revolutionary War to the structure of our government, through presidential responsibilities, and into the story of the White House itself—but to pack in amusing historical anecdotes that invite young readers to branch out in their reading, and to populate it with humorous bunnies, annoyed robots, and recurring gags that maintain their amusement without becoming tedious, is a unique achievement. The data, supported with a bibliography of sources, is the most thorough treatment of this subject available in this format, and the loopy caricatures and cartoonishly feverish depictions of places and events don't undermine the information, but miraculously serve to keep interest percolating through some high-density pages that touch on everything from George Washington's teeth to crucial constitutional amendments to presidential assassinations. An absolute necessity for school libraries."--Booklist, starred review

"From the author of the popular Amazing Greek Myths of Wonder (Dial, 2010) comes another educational book in graphic-novel format. Covering political history from the mid-1700s to the present day, this brightly colored volume uses humor and fast-paced panels to teach readers about how the office of the presidency was formed. At the start of the book, there is some (slightly superfluous) "pre-content content" designed to hook youngsters and prepare them for what they are about to learn. Topics include "How Does a President Get Elected?," "What Do Presidents Actually Do?, and "Why Is the White House So Awesome?" Fun, cartoon illustrations work with the text to provide clarity and additional information, and frequent text boxes highlight important facts. There is no index, making the book less a research tool than a pleasure read, but it is so chock-full of interesting tidbits and anecdotes that kids will no doubt find it useful to supplement their American history studies. An engaging and informative addition to most collections."--School Library Journal
Dial Books, 9780803737488, 160pp.
Publication Date: September 13, 2012
About the Author
Michael Townsend lives and works in Philadelphia, Pennsylvania.