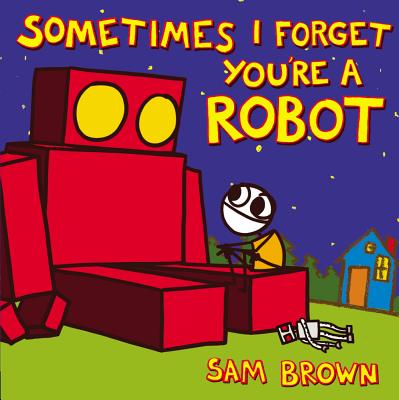 Sometimes I Forget You're a Robot (Hardcover)
Dial Books for Young Readers, 9780803738256, 32pp.
Publication Date: October 17, 2013
Description
For fans of Todd Parr and Oliver Jeffers comes this debut picture book about a boy and his robot friend from the creator of the popular crowd-sourced comic blog, explodingdog.com
For a little boy who's always dreamed of having his own robot, actually getting one isn t what he expected at all. The robot can t fly, or swim, or even talk. All he does is beep beep beep like a toy. But his robot does have some hidden talents and one of them is being a great friend.
In this unexpectedly poignant story about adjusting expectations, Sam Brown shows that while no one is perfect, a good friend sure comes close.
About the Author
Sam Brown is the creative talent behind the successful interactive art project explodingdog.com, a website which has been up for over a decade and has been featured in the New York Times and USA Today, among other publications. Brown lives in West Hartford, Connecticut, with his wife and two children.
Praise For Sometimes I Forget You're a Robot…
"It's a book I love as an adult and a book I would have loved as a child too." -Dav Pilkey, author/illustrator of The Adventures of Captain Underpants

"A smart take on the strangeness of friendship." - Kirkus Reviews

"The message is a good one: when you value others for who they are, rather than who you want them to be, you'll be pleasantly surprised." - Publishers Weekly

"[My friends] were soon hooked on the interactive, hilarious strangeness of cartoonist Sam Brown...his 'toons are funnier than anything you'll find in the Sunday paper." - Wired.com

"The pictures, which he draws with a stylus on a tablet PC, feature simple colors and sticklike figures in a distinctive style that is widely recognized and admired by online regulars." - The New York Times

"[Sam Brown] flirts along the fine line between sparse and bizarre, giving people what they want but rarely giving them what they anticipate." - The Austin Chronicle
Advertisement